Bond Investors Are Getting Fresh Reasons to Stay Record Bullish
(Bloomberg) -- Bond investors keep getting bombarded with fresh reasons to stay bullish after another record-breaking week in Treasuries.
As the five-year yield plumbs near all-time lows, the 10-year benchmark is again testing levels notched in the depths of the pandemic despair. Leveraged-funds keep pulling back their bearish bets to the lowest since 2018.
With U.S-China tensions raging again, Wall Street is telling clients to stay constructive and investors are finding it tough to wager against securities they deem the most overvalued in decades.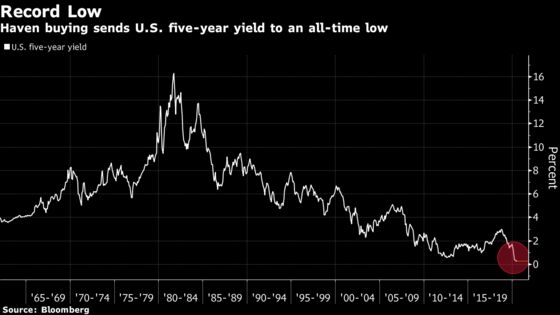 "The expression we are starting to say around the office, or I should say on the phone, is that we are moving from low for longer to low forever," said Brett Wander, the chief investment officer of fixed income at Charles Schwab Investment Management. "Low yields are here for 2020, 2021 and 2022."
The rate on five-year U.S. notes hit fresh all-time low last week, belying the rally in risk assets. Inflation-adjusted yields on 10-year Treasuries dropped to around minus 0.9%, the slimmest in nearly eight years. The benchmark 10-year yield posted its lowest-ever weekly close at 0.59%.
Leveraged funds reduced their short positions on Treasury futures to 460,059 contracts, the least since early 2018, compared with more than 1 million contracts a year ago, CFTC data showed.
Adding to pressure on economic growth is the tension between the two biggest economies that has escalated beyond trade issues. Still, analysts forecast yields will gradually rise, with the 10-year climbing to 0.87% by the end of the year from 0.59% currently, according to estimates compiled by Bloomberg. By mid-2021, yields are projected to reach 1.05%.
But judging from their track record over the past decade, analysts have often been forced to revise down their year-end forecasts.
Arguments against buying government bonds include policy stimulus that could fuel growth and inflation, record debt issuance and valuation concerns. BlackRock Inc., for example, has reduced its nominal bond holdings on a strategic basis and Goldman Sachs Group Inc. suggested investors go short on Treasuries citing an overdone rally of late.
For the likes of Joern Wasmund, any upside in yields could be temporary.
"What's going to happen if we have another recession? Rates could go lower. The Fed could go in the direction that Japan or Europe took," said Wasmund, the global head of fixed income at DWS Investment GmbH. "It might not be the most likely scenario, but it is not impossible."
Next month could spring a fresh bullish surprise on the sleepy bond market. The 10-year benchmark has fallen in August in 22 of the past 35 years, according to TD Securities' Priya Misra. JPMorgan Chase & Co. strategists cut their year-end targets last week for the 10-year to 0.80% from 1%, and 30-year to 1.65% from 1.85%.
"The fall in yields speaks to the challenged growth environment going forward," said Greg Peters, head of multi-sector and strategy at PGIM Fixed Income. "There is scope for yields to move lower in the long end."