Crop Traders Turn to Charts While the Shutdown Obscures Fundamentals
(Bloomberg) -- The pendulum is swinging toward technical indicators in agriculture markets amid the partial U.S. government shutdown.
The impasse over a wall along the U.S.-Mexico border has led to the longest U.S. government shutdown ever. With the ensuing delay in federal reports keeping traders largely in the dark about crop sizes, export sales and investor holdings, the market is turning more to price charts for guidance.
Trades based on indicators such as moving averages or the relative strength index are playing a larger role given the lack of supply and demand information from the U.S. Department of Agriculture, according to Shawn Hackett, president of Hackett Financial Advisors in Boca Raton, Florida.
"The longer we go with the absence of USDA data, the more we start to lose confidence and we start leaning on other factors such as chart signals," Arlan Suderman, chief commodities economist for INTL FCStone in Kansas City, Missouri, said in a telephone interview on Wednesday. "That is what we are seeing happen now."
USDA hasn't released weekly crop export sales reports for almost a month at a time when traders want verification of potential purchases by China amid a trade war truce. The department postponed its monthly World Agricultural Supply and Demand Estimates report, which was scheduled for release on Jan. 11. The Commodity Futures Trading Commission has suspended its weekly Commitments of Traders report.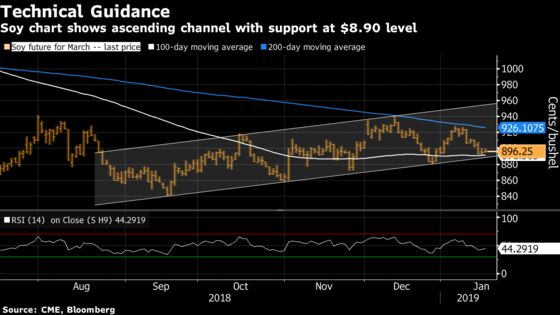 Traders weigh both fundamental and technical indicators. Currently, the market is "leaning past the center more toward the technicals," Suderman said. Even though rising inventories provide a bearish signal for soybean prices, some recent technical signals have supported the market, he said.
Until USDA and CFTC data becomes available and without more clarity on the U.S.-China trade negotiations, technically-driven moves in prices could become more frequent, Jacob Christy, a trader at Andersons Inc. in Maumee, Ohio, said in a video comment on Wednesday.