As Nike Boycott Gets Underway, Next Battleground May Be Pensions
(Bloomberg) -- Calls to boycott Nike Inc. products are already making the rounds, now that it's using quarterback Colin Kaepernick in new ads. Will calls for state pension plans to divest its stock be next?
Five large state pension plans that manage retirement savings of law enforcement workers, as well as other public employees, own more than $400 million of Nike stock all told, based on each fund's latest filing and Tuesday's closing price. To be sure, that represents well under 1 percent of Nike's market value.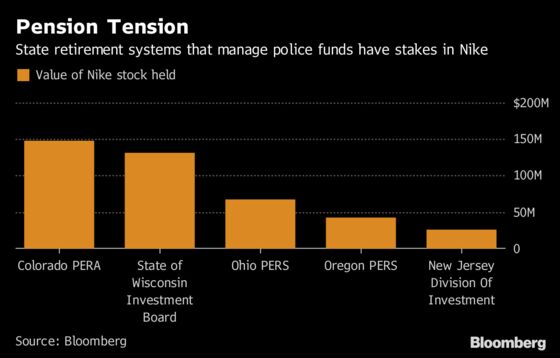 The National Association of Police Organizations has already issued a statement calling for a boycott of Nike products. A spokeswoman said the boycott also applies to the company's stock but that any response is up to member organizations. Police have been critical of Kaepernick after he started kneeling for the national anthem to protest racism and police brutality in the U.S.