Philippine Church Blast Kills as Many as 19, Injures 48
(Bloomberg) -- As many as 19 people were killed and 48 hurt in two explosions at a Catholic church on Sunday in the southern Philippines' province of Sulu, police and military officials said.
An improvised explosive device went off inside the Cathedral of Our Lady of Mount Carmel in the provincial capital of Jolo while mass was being held around 8 am, officials said. This was followed by a second blast near the parking area of the church.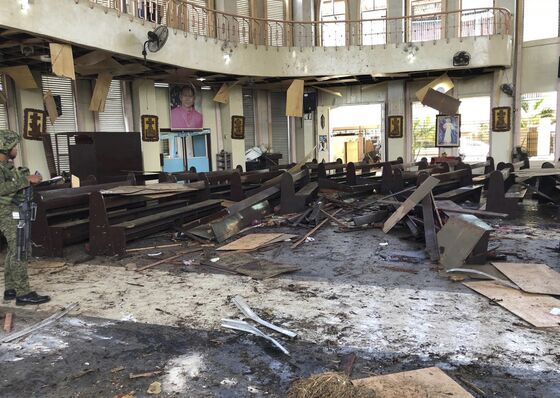 The incident happened days after minority Muslims in the predominantly Catholic nation endorsed a new autonomous region that officials hope will bring peace to the southern island of Mindanao after four decades of armed conflict.
No one has yet claimed responsibility for the attacks. Sulu is a stronghold of the Abu Sayyaf terrorist group while Mindanao, where the province is located, is home to the nation's Muslim separatist movement.
"I have directed our troops to heighten their alert level, secure all places of worship and public places at once, and initiate pro-active security measures to thwart hostile plans," Defense Secretary Delfin Lorenzana said in a statement.
Many of those killed were soldiers from the nearest military unit who rushed to the site to aid civilian victims, military spokesman Brigadier General Edgard Arevalo said. An investigation is ongoing.