As Iron-Fisted Maduro Lets Foe Roam Freely, Some Sense Weakness
(Bloomberg) -- In a country where hundreds of political prisoners are behind bars, it's not surprising that Juan Guaido was arrested a week after becoming the face of Venezuela's battered opposition. The surprise was his release just hours later.
Now, as Guaido aggressively pushes the Venezuelan military and foreign governments to recognize him and not the authoritarian leader Nicolas Maduro as the legitimate head of state, his freedom underscores just how tense the situation has suddenly become in Caracas.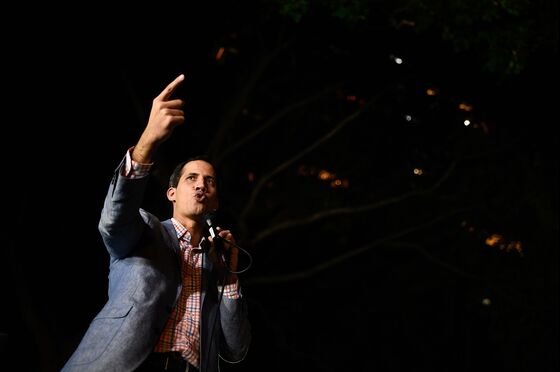 The Maduro regime, leery of triggering new sanctions from an international community that is growing increasingly impatient, appears to be unsure of how to handle the lawmaker's rapid ascent.
"The government has been completely caught off guard," said Dimitris Pantoulas, a Caracas-based political analyst. "We've seen a series of errors on their part, but they're evaluating what to do. And if Guaido doesn't lose force, they'll take action."
Standing up to Maduro can be dangerous business: Venezuela currently holds 281 political prisoners, according to the Caracas legal group Foro Penal, and human-rights advocates have said some have been tortured.
Indeed, one reason Guaido became the head of the opposition-dominated National Assembly this month is because so many colleagues have been exiled or arrested.
But the 35-year-old lawmaker hasn't slowed down. He is speaking at town-hall meetings across the country, making his case that the constitution lets him serve as acting president in the absence of a lawful government and calling for street protests next week.
The Organization of American States and the U.S. have rushed to back Guaido, with Vice President Mike Pence telephoning him and calling him "a courageous man" in a tweet.
In normal times, Guaido likely would have already been imprisoned like his mentor, dissident Leopoldo Lopez. His continued freedom depends on a precarious balance between his foreign support and how serious Maduro perceives his threat to be.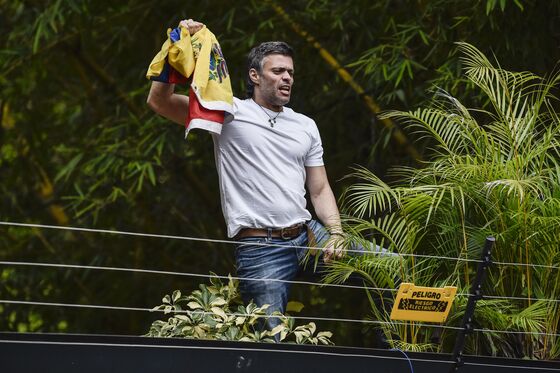 A week after Guaido took the reins of the assembly -- the only institution not controlled by socialist party loyalists -- he was forced out of his car at gunpoint by a dozen police officers on his way to a rally and briefly detained. The government has insisted it was the act of rogue officers.
Foro Penal Director Alfredo Romero said the government carefully weighs the cost-benefits of letting dissidents continue to agitate. Thousands of protesters were arrested during months of unrest and mass demonstrations in 2017. The Maduro forces have continued to take people into custody, targeting everyone from soldiers to union leaders to business owners, sometimes swiftly releasing them, often not.
"This all becomes part of a formula to instill fear in the population to hold power," Romero said. "Sadly, it's one that's worked well for the government."
Guaido is calling for protests on Jan. 23, a holiday celebrating the anniversary of Venezuela's six-decade-old democracy. The legislature has already declared Maduro an illegitimate president and approved the legal framework to create a caretaker government led by Guaido, who would serve as interim president until new elections.
"Maduro usurped the sash, but that does not make him president," Guaido said, referring to the president's ceremonial garment, after votes were cast to elevate him.
The assembly took other steps, passing one measure asking foreign countries to freeze Venezuelan liquid assets abroad and another offering blanket amnesty to any members of the armed forces who defect.
It's unclear how much of a threat –- if any -– those moves pose to a two-decade socialist autocracy that has driven the oil-rich nation to ruin. The National Assembly was stripped of nearly all its functions nearly two years ago, though it is increasingly recognized as the only democratically elected body by regional powers including the U.S. and Brazil.
"It's wishful thinking to assume you can successfully defeat this government using the constitution when it doesn't respect the rule of law," said Raul Gallegos, an associate director at Control Risks, a consultancy.
Maduro, the handpicked successor to the late Hugo Chavez, has so far managed to beat back threats to his rule, surviving everything from impeachment drives to an assassination attempt. He was sworn in to another six-year term last week over the outcry of domestic foes and dozens of countries that contend his election was fraudulent after major opposition parties refused to participate in the vote.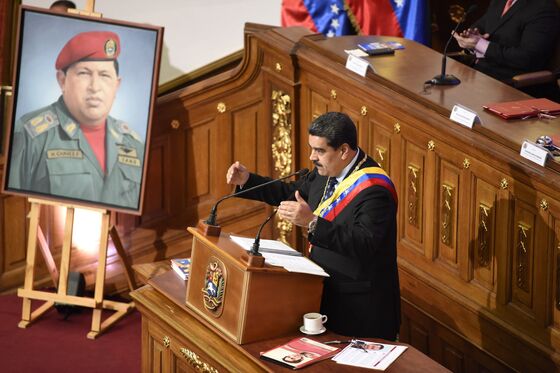 Under his rule, there can be harsh consequences for moving the masses. Lopez, a former Caracas mayor and founder of Guaido's Popular Will party, was jailed in 2014 after he spearheaded major street unrest against Maduro.
He was sentenced to military prison for nearly 14 years on charges including inciting violence and criminal association in what was widely regarded as a kangaroo court. He was transferred to house arrest in 2017; intelligence police patrol 24 hours a day and he is prohibited from speaking to the press.
Another member of Popular Will, Gilber Caro, was arrested in early 2017 as opposition leaders began to hold demonstrations. Police say they found a rifle, bullets and plastic explosives in his car, a claim Caro denies.
Caro was jailed, often held in solitary confinement, though never charged. Caro was freed last year, having lost 40 pounds, in a wave of mass releases by the government, but is prohibited from leaving the country.
"At this point, anyone who is doing political work or a profession that is perceived a threat to the government is putting themselves at risk," Caro said. "Juan is very aware of the risk he's taking."