Thirty Is the Magic Number for Argentina's Macri
(Bloomberg) -- Argentina has a new refrain: 30 — it's a magic number.
Just after President Mauricio Macri completed 30 months in office, inflation looks set to jump to a staggering 30 percent by the end of the year. The peso has tumbled 30 percent in 2018 and is forecast to decline to a once-unthinkable 30 per dollar.
It's all an unfortunate confluence for Macri, who swept to office in 2015 vowing to jump-start the economy by enticing foreign investment and slashing inflation. As a historic drought and currency selloff forced Macri to seek a record $50 billion credit line from the International Monetary Fund, borrowing costs are at world-beating highs and the Merval stock index swooned to a bear market after two years of double-digit gains.
"What's shocking is that Mr. Macri's operating environment turned so hostile," said Michael Roche, an emerging markets fixed-income strategist at Seaport Global Holdings. "The country had been waiting for its time in the spotlight, but now there's certainly been a shedding of Argentine exposure at a loss for investors."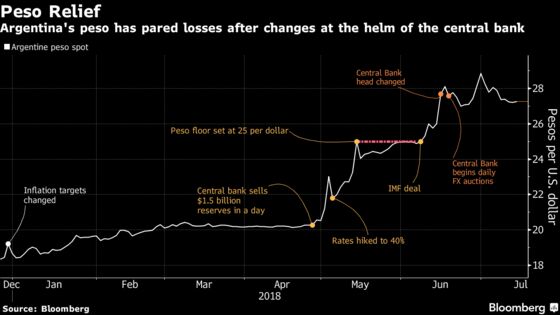 Granted, for those willing to stomach the volatility, local assets are still a good bet, Roche says. Interest rates of 40 percent are drawing the attention of investors who say high yields will exceed the peso's loss as inflation is tamped down.
Just talk to Graham Stock, senior sovereign strategist for emerging markets at $60 billion BlueBay Asset Management in London. He recently got back from a trip in Buenos Aires, with a "constructive" view and added some exposure on Argentina's dollar bonds. Stock said he'll now be watching for signs of how the nation will adopt a 2019 budget that incorporates 300 billion pesos ($11 billion) of fiscal cuts demanded by the IMF. Discussions are expected to begin in September.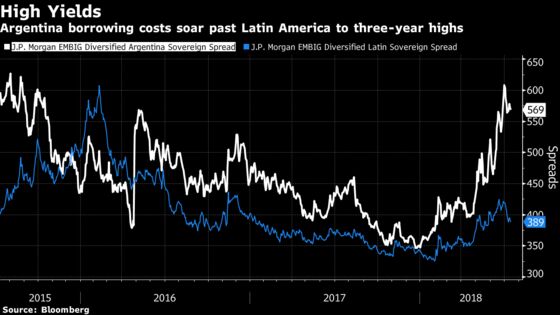 "The most important is an agreement with congress on the 2019 budget," said Stock. "There needs to be political agreement on how the fiscal adjustment is going to fall."
And Argentina did get some good news in June, when MSCI Inc. said it would reclassify the nation's U.S.-traded stocks as emerging markets, a step that may boost inflows by about $2.6 billion. Macri himself welcomed it in a Facebook post.
For now, though, Macri will have to deal with slowing growth, part of the compromise needed to reach "realistic" fiscal objectives set by the IMF, according to a forecast by Morgan Stanley. The New York-based bank expects a recession in the second and third quarters. And inflation remains a challenge: The government said today that consumer prices rose 29.5 percent in June from a year ago -- or 3.7 percent in that month alone.
Some pundits are starting to worry that the accumulation of financial woes may put Argentina's can-do president in a can't-win impasse ahead of next year's election, says Juan Manuel Pazos, head strategist at Buenos Aires broker Puente. Argentine bond yields have soared more than 200 basis points to a three-year high since January because they're no longer pricing in Macri's reelection next year, according to a note from Banco Mariva. The president still doesn't have a clear opponent in the upcoming race. The government will delay utility price increase set for the third quarter after requests by Macri coalition partners.
Again, a certain number helps tell the story: While voters gave Macri a 42 percent approval rating in June, up from 36 percent in May, there may be a threat to his political future should that rating shrink in coming months to -- you guessed it -- 30 percent.