Premier League Calls Emergency Meeting After Arsenal Virus Case
(Bloomberg) -- England's Premier League called an emergency meeting to discuss future matches after Arsenal Football Club head coach Mikel Arteta tested positive for the novel coronavirus.
The meeting will take place Friday morning U.K. time, the league said in a statement shortly after Arteta's diagnosis was made public. The Spaniard, who became manager of Arsenal in late 2019, said he sought a test for the coronavirus after feeling ill.
"This is really disappointing," Arteta said, according to a statement from the club released late Thursday. "I will be at work as soon as I'm allowed."
Arsenal said it will put its first-team squad and coaching staff into self-isolation, and temporarily closed two of its training centers for a deep clean, although it expects those who did not have close contact with Arteta to return to work in the coming days. The side's game against Brighton and Hove Albion on Saturday has been postponed.
Uncertainty over the Premier League season comes after a swathe of sporting cancellations in the U.S. and other parts of the world. The NCAA, Major League Baseball, PGA Tour and the National Hockey League will suspend play, joining other American organizations including the National Basketball Association in responding to the coronavirus threat.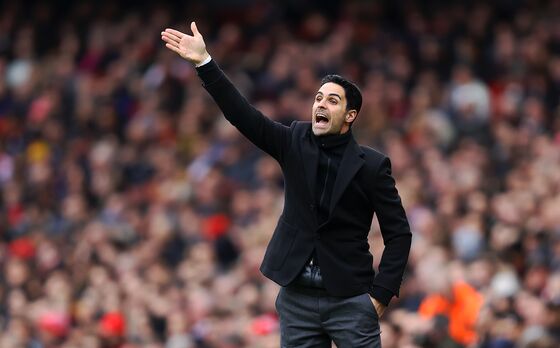 Chelsea Football Club said player Callum Hudson-Odoi also tested positive for the virus and will self-isolate. Those who had close contact with the winger, including the full men's team squad and coaching staff, will be quarantined. Hudson-Odoi is "doing well and looking forward to returning to the training ground as soon as it is possible." Chelsea said.
A match Wednesday between Manchester City and Arsenal had already been postponed after the owner of a Greek team who recently played Arsenal contracted the coronavirus. The pathogen first emerged in the central Chinese city of Wuhan and is now spreading globally, claiming more than 4,900 lives and infecting over 132,000 people.
A number of notable people have contracted the virus, underlining its rapid spread and reach. Hollywood superstar Tom Hanks and his actor wife Rita Wilson said Thursday they contracted the virus in Australia, while Canadian Prime Minister Justin Trudeau's wife and Juventus Football Club's Daniele Rugani have also been infected.
Arsenal said it is tracing other people who were in close contact with Arteta.
"We will work with Public Health England on the next steps in regard to our facilities and staff, and with the Premier League, Football Association and relevant clubs around our forthcoming matches in the Premier League and Emirates FA Cup," the club said.
The U.K. government has so far resisted calls to cancel sporting events, or for games to be played behind closed doors, in a bid to keep the population calm. "We need to do the right things at the right time. If people go too early, they become very fatigued. This is going to be a long haul," Britain's Chief Medical Officer Chris Whitty said yesterday.