Arizona's Death Record Chips at Pence Virus Talking Point
The coronavirus ignored a Trump administration talking point Wednesday as Arizona reported record numbers of new daily Covid-19 cases -- and a record number of deaths from the disease.

On a day that Vice President Mike Pence was visiting Arizona, its Department of Health Services reported 4,878 new Covid-19 cases and 88 fatalities.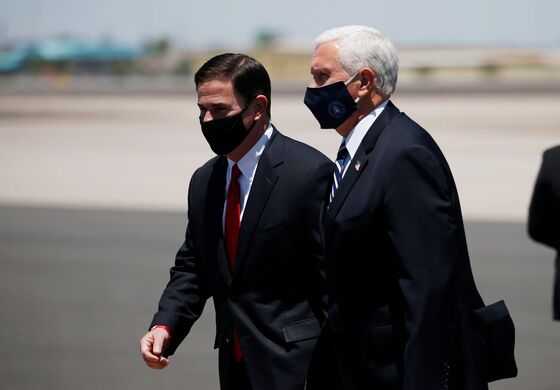 Arizona is among several Sun Belt states that have become pandemic hot spots. Texas has reported a record number of new cases and on Wednesday one of Florida's biggest hospital operators said it would limit inpatient surgeries amid a crushing surge.
Jackson Health System in Miami-Dade County said it would handle only emergency cases. The hospital system continues to see a "steady increase" in Covid-19 patients, according to an emailed statement. The county, the state's most populous, reported the highest numbers of Covid-19 intensive-care patients since at least early April.
While case numbers are soaring in states spared the brunt of the initial wave of the pandemic, deaths have remained relatively low. That may change.
Nationally, "the number of people in hospitals has increased by an average of 673 per day over the past week, up from 196 over the previous week," said Ian Shepherdson, chief economist for Pantheon Macro, an economic research firm. "The trend of deaths is stable but will soon start to increase."
The administration has highlighted the apparent disconnect between cases and mortality as proof Covid-19 is under control. Pence noted the trend in a coronavirus task-force briefing in Washington last week.
"Fatalities are declining all across the country," he said, and called the rise in new cases in people under 35 "very good news," because he said the young aren't as likely to die from Covid-19.
After his meeting with Ducey Wednesday, Pence said the federal government would "spare no expense" to help Arizona get what it needs to combat the surge, including the state's request for 500 medical personnel.
"We're with you," Pence said. "We're going to make sure that Arizona has whatever it takes to meet this moment."
Pence didn't mention the death record.
Joe Gerald, a University of Arizona researcher, said the 165 confirmed Covid-19 deaths in Arizona in the week ended June 14 set a record, eclipsing the previous weekly high of 142 in the week ended May 10th. The June 14th week total is likely to rise as more reports trickle in.
Because of delays in reporting, that's the most recent week for which largely full death data is available in Arizona, Gerald said. But based on preliminary information, Covid-19 deaths will likely set a record for the week ended June 21st, he said.
On Monday, Arizona Governor Doug Ducey suspended his May 16 order reopening the state and said bars and gyms would close.
Arizona's most populated county, Maricopa County, accounted for 62% of cases and 47.5% of deaths in the state. The county was criticized last week after reports that public health officials in the county were not following CDC guidelines for contact tracing, leaving about 35,000 positive Covid-19 cases without proper contact tracing, according to a letter by Arizona U.S. Rep. Greg Stanton.
Elsewhere, Texas posted its worst day yet for new cases on Wednesday, with 8,076 new cases, that pushed the total to 168,062, according to state figures. Fatalities rose by 57, to 2,481, the highest one-day increase since May 14. Hospitalizaion of Covid-19 patients hit a record the previous day, while intensive-care wards in Houston, the fourth-biggest U.S. city, overwhelmed normal operating capacity, forcing doctors to tap so-called surge beds.
"We have been constantly busy with coronavirus patients," said Maria Longoria, a front-desk administrator at Hospitality Health ER, a 24-hour, free-standing emergency clinic in Galveston. Beaches in the Gulf Coast resort town have been packed "and with the 4th of July coming, we're just bracing ourselves."
Austin Mayor Steven Adler Wednesday said the city has seen a doubling of new admissions, intensive care unit beds and ventilators over the past week, adding that he expects total case numbers in the Austin area to eclipse 10,000 by the end of the day.
"On the current trajectory, Austin/Travis County is looking at our hospitals –and ICUs especially– being overwhelmed probably within the next two weeks," Adler said in a phone interview.
The disconnect between new cases and deaths may also have to do with quirks in collection and reporting of death data, as well as the fact that younger people are a greater proportion of new cases.

Complicating matters, there can be a weeks-long lag in many states between when someone dies and when that's included in the daily reports. That means deaths could be on the rise days before states say they are.
In Georgia, which has seen new cases surge since June 1, deaths typically take between 18 and 20 days to be recorded but can take months in some cases, said Nancy Nydam, spokeswoman for the state's Department of Health. The lag is common with or without Covid-19, she said.
Experts also question whether the disconnect between death and case trends reflect improved treatment, like smarter use of ventilators than earlier in the pandemic, or new drugs like Gilead Sciences Inc.'s remdesivir.
"The uncertainty right now is as high as it has ever been since the very scary early days in mid-March," said James Scott, a professor of data science at the University of Texas in Austin who is part of a modeling team that predicts that deaths will tick up in July.