Argentines Expect Inflation to Hit 50% in the Next Year
Argentines see the inflation rate, already at 46% annually, speeding up further over the next year as government price controls have failed to tame elevated food costs.
Prices in Argentina are seen rising 50.2% over the next 12 months, according to the University of Torcuato di Tella's monthly poll of citizens. It's the highest average reading since the university began its survey in 2006. Median inflation expectations also registered at 50% for the third straight month.
With annual inflation currently above 46%, expectations for average price increases have risen for five straight months, according to the survey. People's projections are also significantly higher now compared to pre-pandemic levels when Argentines saw prices increasing about 34% over a 12-month period.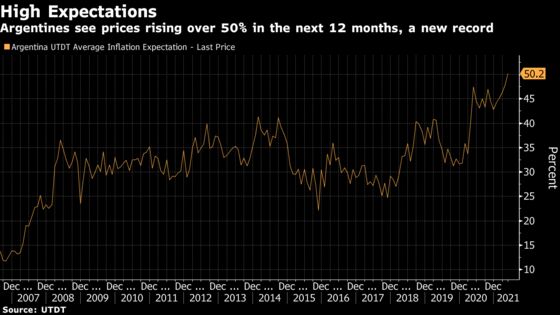 Prices rose 4% or more in three of the first four months this year, prompting the government to extend some price controls and temporarily ban beef exports. Alongside concerns of no economic plan, the government's money printing last year to finance Covid-19 social spending is also fueling expectations for elevated inflation in 2021.
The university's monthly poll included 1,200 participants in an automated phone survey between May 3-13. It was conducted by Argentine firm Poliarquia Consultores and has a 3.5% margin of error.