Argentine Peso Slides as More Data Shows Economy Is Slowing
(Bloomberg) -- The Argentine peso fell by more than 3 percent Monday after data released following the market's close on Friday showed that high interest rates that have helped prop up the currency are slowing the economy even more than anticipated.
The peso, the world's worst-performing major currency this year, dropped to 38.8 to the U.S. dollar, its largest decline since new central bank policies backed by the International Monetary Fund took effect Oct. 1. It later trimmed losses, creeping back to 38.5 per dollar.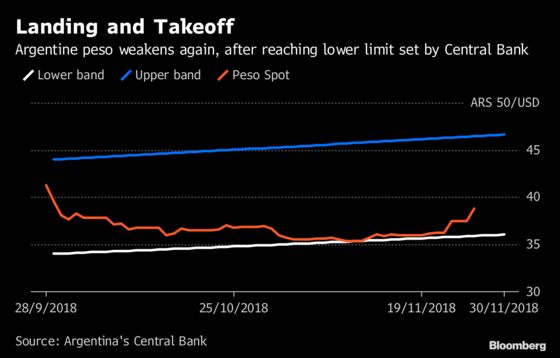 The peso is now trading in the middle of a currency band put in place with the IMF's $56 billion deal after hovering close to the floor of that band in recent weeks. The peso is down 51 percent so far this year, the worst among major currencies.
The government said Friday that economic activity contracted on a yearly basis for a sixth straight month and imports cratered amid mounting signs of a worsening slump. Activity plunged 5.8 percent in September compared with a year ago, more than estimates from analysts in a Bloomberg survey, whose median forecast was for a 4.6 percent decline. The trade surplus also proved smaller than expected.
Labor strikes also kicked off a critical week for Argentina, forcing Aerolineas Argentina to cancel all 371 flights on Monday. Unions representing transit workers also declared a three-hour strike for Tuesday morning. The labor protests come as Argentina hosts the G-20 leaders summit this week, with 8,000 visitors expected to arrive.