Deja Vu for Worst Emerging-Market Currency as Carry Trade Wavers
(Bloomberg) -- A slump in the Argentine peso Wednesday revived memories of last year's collapse, after a drop in interest rates and stubbornly high inflation led investors to reverse carry trades.
The peso dropped to the lowest level since September after last week's government data continued to spur bets that inflation will remain high. The report came as a blow to investors who had poured money into the country to profit from appealing interest rates and a stable currency. The faster-than-expected price growth threatened to undermine the peso, making the carry trade strategy less attractive.
"Real interest-rates are now very low after the significant reduction in rates in the past few weeks," said Joaquin Gonzalez Gale, a currency trader at INTL FCstone Argentina in Buenos Aires. "The January inflation number and the forecasts for February have highlighted the weakness in monetary policy."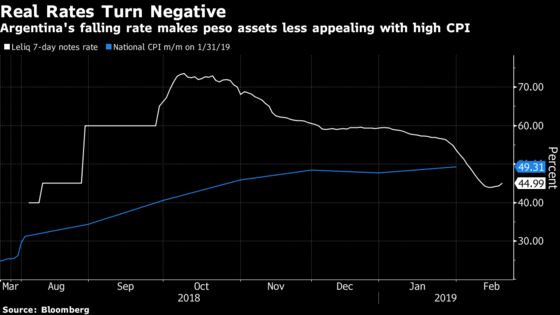 As the peso weakened, the central bank sold more Leliq notes than were maturing on Wednesday, absorbing 10.8 billion pesos from the market and leading to a steep increase in interest rates, said Mateo Reschini, analyst at local broker LBO SA.
The average Leliq rate rose 153 basis points to 46.014 percent, according to traders with direct knowledge of the auction. The maximum rate sold jumped 500 basis points to as high as 49.989 percent. The peso slipped 1 percent to 39.67 per dollar Wednesday, after slumping as much as 3.3 percent.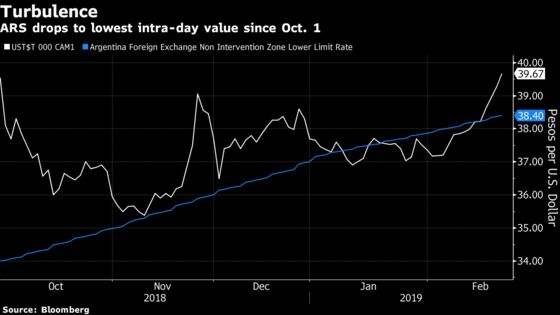 Low liquidity means it may take investors a while to unwind the carry trades, extending losses in the peso. Moreover, with the currency still well within the central bank's non-intervention zone, the bank is unlikely to sell dollars. The ceiling of the band for Wednesday was 49,693 pesos per dollar.
Yet the currency is close to an attractive level and investors should look for spikes to add to long peso positions, according to Daniel Chodos, Latin America head of credit trading strategy for Credit Suisse.
Argentina's peso, the worst performing emerging-market currency this year, had been stronger than the non-intervention band set by the central bank following a revised agreement with the International Monetary Fund.