Argentine Law Firm Said to Advise Dollar Offer in Telecom Tender
(Bloomberg) -- Telecom Argentina's owners are offering minority shareholders too little money in a mandatory tender, according to a brief filed by one of Argentina's top law firms on behalf of an investor.
The firm, Perez Alati, Grondona, Benites & Arntsen, described the current offer as unfair in a study delivered to the Argentine securities regulator on behalf of an unnamed investor, according to people familiar with the matter. Investors should be paid in dollar terms at $4.867 per share, or $24.3 per American depositary receipt. The original offer of 110.85 pesos is $2.87 at today's exchange rate.
The firm's view backs that of the Comision Nacional de Valores, which had requested a dollar price, according to a court ruling. After a rout in the Argentine peso and inflation over 30 percent, investors have raised concerns that the original bid in pesos has lost value. Majority shareholder Cablevision Holding SA argued it would suffer "grave economic damages" with a dollar-based bid, saying it represents "an expropriation."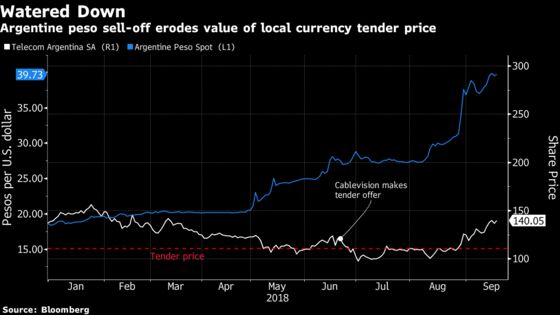 The shares pared losses in Buenos Aires and in New York after the news. Shares in New York fell 1.6 percent to close at $18.22 in New York and were called to auction in Buenos Aires. The regulator was due to rule on the pricing of the offer but was blocked Sept. 21. after an injunction by a judge. The CNV has said it will take "all necessary measures" to protect minority investors.
The law firm's opinion is based on the price of a call option granted by Fintech Advisory for the purchase of a stake in Telecom Argentina, which was set in dollar terms. An equivalent price would represent fair, equal treatment for all shareholders, according to the letter. The study adds that the CNV has the legitimacy to question the tender price.
A representative for Perez Alati declined to comment on the report and the identity of its client. A representative for Argentina's securities regulator declined to comment. Cablevision spokesman Agustin Medina Manson said that the price of the call option can't be used to determine the tender as it was a "completely different contract."