Argentina Expropriation Setback Prompts Backlash by Fernandez
(Bloomberg) -- Tensions over Argentina's moves to take over bankrupt soybean processor Vicentin SAIC intensified as people took to the streets over the weekend to protest, and President Alberto Fernandez insisted on nationalizing the company.
Thousands of Argentines in Avellaneda, Santa Fe province, where Vicentin is headquartered, and other cities, expressed anger at the expropriation plan on Saturday, which was also Flag Day, an independence celebration dedicated to the South American nation's blue-and-white flag. Many protesters also complained about the strictness of Argentina's stay-at-home rules to combat Covid-19.
On Saturday night, Fernandez posted a tweet — without explicitly mentioning Vicentin or the lockdown — saying that far from "letting up," he's "reaffirming my convictions ... for the health of the republic." Fernandez has been president since December.
Earlier in the day, in a radio interview with El Destape, Fernandez said a judge's decision that set back the government's expropriation of Vicentin was "a big judicial absurdity."
Fernandez said he wouldn't back down from a takeover but was allowing room for a plan drafted by Santa Fe Governor Omar Perotti. That proposal envisages seizing control of Vicentin through provincial channels, rather than the federal nationalization originally announced.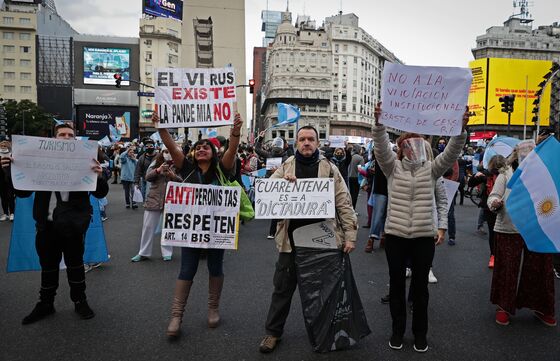 Judge Fabian Lorenzini reinstated Vicentin executives on Friday and said government officials who seized control of the company by decree should step aside to perform a supervisory role.
Lorenzini has been overseeing Vicentin's bankruptcy, which includes resolving about $1.4 billion in debt. His ruling represented at least a temporary victory for critics of the government.
Those critics said a June 9 decree — which involved taking over Vicentin for 60 days while Fernandez mulls an expropriation bill and other options to rescue the crop trader — was an overreach of the executive branch into judicial matters.
Vicentin is Argentina's biggest exporter of soy meal for animal feed and soy cooking oil. Argentina is the world's top supplier of those products.