Argentina Seeks Way Out of 'Hell' With New Monetary Policy
(Bloomberg) -- Argentina debuts its new monetary policy on Monday amid concerns from investors over whether it'll worsen the nation's recession ahead of the 2019 presidential election.
Policy makers are seeking to stem a financial and economic crisis with sweeping changes under a revised deal with the International Monetary Fund and the bank's new president, Guido Sandleris. The problem is that the reforms risk cooling the recession-ridden economy so much more that it's unclear how long they can survive with an election a year away.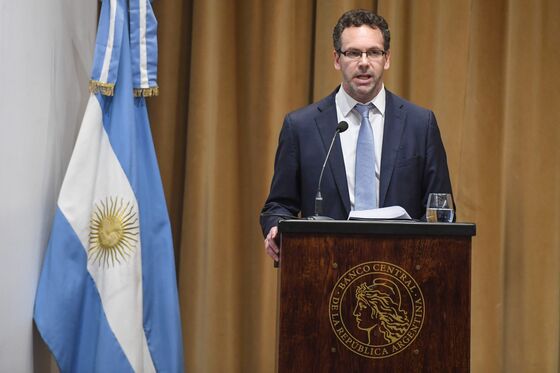 "We're already in hell and they have to find the least painful way out," said Alberto Ramos, an economist at Goldman Sachs Group Inc. in New York. "But it's an extremely fierce monetary tightening. This can't last for long."
The central bank on Monday starts its plan to significantly cut down the amount of pesos in circulation in order to tame inflation. Its goal is to not allow that pile of cash, known as monetary aggregates, to grow until June 2019. It has been growing 2 percent a month recently.
The central bank will start daily auctions on Monday of notes known as Leliqs that will help determine its benchmark interest rate. Sandleris is dedicated to keeping rates at a minimum of 60 percent, the highest rate in the world. Selling the notes will allow the bank to absorb pesos in order to remove excess cash that often tends to weaken the currency. The measures are ultimately meant to rein in price increases.
The bank will hold an auction of Leliqs on Monday at around 2:15 p.m. local time. It is offering 60 billion pesos ($1.48 billion) of them at a yield of 65 percent.
Even before this new plan, the government was bracing for a recession this year and next. Keeping borrowing costs high and taking cash out of the economy makes President Mauricio Macri's re-election tougher. Some analysts are beginning to question whether he can commit to fiscal restraint -- key to the IMF's funding -- ahead of the vote.
Argentine leaders are switching their focus to monetary aggregates from interest rates because aggressively raising rates this year failed to stop the currency rout. The central bank could control the amount of money in the economy by freezing supply, selling notes, spending dollars or increasing capital requirements for banks.
In theory, that should also help anchor the peso, which has fallen 55 percent this year, the most among emerging markets.
Along with abandoning inflation targets, the central bank wants to stop spending its reserves to shore up the peso. It will allow the currency to float within a moving range currently set at 34 to 44 per dollar -- a "non-intervention zone."
The new approach to the exchange rate has left some analysts doubtful.
"The non-intervention zone with a pre-announced small limit to central bank sales might be counter-productive," Pilar Tavella, an economist at Barclays Capital Inc. in New York, said in a report.
Experts say the problem is that when the central bank does intervene outside of the zone, it's already said that it will limit firepower to just $150 million a day. The peso fell 3.8 percent on Friday to close at a record 41.25 per dollar.
Sandleris argues that last week's peso decline was merely a sign of a "transition period," and that it would take "a couple of weeks" for markets to adjust to the new framework. He said that $150 million a day is more than enough to defend the peso, according to newspaper interviews published Sunday. He points out that his predecessor, Luis Caputo, sold $100 million a day in July and the peso gained 5 percent against the dollar that month.
Economy Minister Nicolas Dujovne told Bloomberg last week that the currency is far less exposed now to shocks, such as an emerging market selloff, that have plunged the peso this year. That's because the new IMF deal front-loaded an extra $19 billion for this year and next, meaning Argentina doesn't need to tap bond markets for cash.
Other countries have focused on monetary aggregates to cut down inflation with mixed results, said Edward Glossop, an economist for Capital Economics in London. He highlighted Argentina's Latin American peers Mexico and Colombia, whose attempts flopped in the 1990s, but also pointed to more successful experiments by Turkey and Indonesia a decade later. In those cases, however, fiscal tightening was also important to reining in inflation, Glossop said.
Overall, uncertainty rules. "We do like the whatever-it-takes approach and monetary base targeting," said Daphne Wlasek, a macro strategist at XP Investments in New York, "but remain unsure of the central bank's capability of defending its risky strategies."