Argentina Says 99% of Sovereign Debt Restructured in Swap
(Bloomberg) -- Argentina received widespread bondholder support to restructure its overseas debt, paving the way for the nation to emerge from the ninth default in its history.
Investors holding 99% of the country's $65 billion in international bonds will swap their securities for new notes, Economy Minister Martin Guzman announced Monday in Buenos Aires. The "massive" support from bondholders will generate $38 billion of debt relief over the next decade, he said.
The announcement marks a key final step in the restructuring process after more than four months of intense negotiations that culminated in a deal valued at an average 55 cents on the dollar. The accord pushes back due dates for the bonds and chops interest rates by more than half, giving South America's second-largest economy a better chance of recovery as it enters its third straight year of contraction.
"Both the government and bondholders can claim success here," said Patrick Esteruelas, head of research at Emso Asset Management. He added the government will have a chance to build up hard-currency reserves over the next few years, while investors can take some comfort in reaching a considerably better deal than they were first offered.
Argentina received tenders for 93.5% of the total debt eligible for restructuring and activated collective action clauses that will bring almost all the country's international bonds into the restructuring.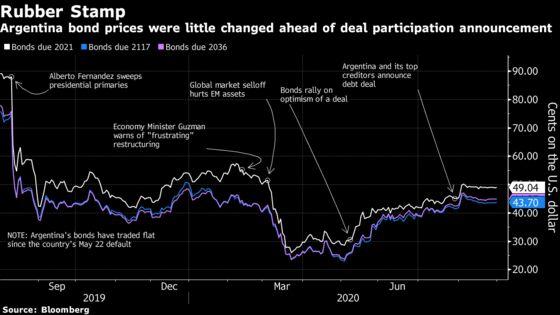 While the government will still have to deal with the bonds held out of the deal, the plan to swap 99% of overseas bonds draws a stark contrast to 2005, when investors holding almost a quarter of the notes outstanding rejected the deal they were offered. That created all sorts of headaches for Argentina, including a decade-long court battle with billionaire Paul Singer's Elliott Management that left overseas assets vulnerable to seizure and locked the nation out of international debt markets.
To reach a deal that would avoid the pitfalls of its past exchanges, Argentina compromised on its initial hard-line stance after months of back-and-forth. The country offered creditors well over $13 billion dollars more in its final proposal than in the original one, leading some critics to argue the country may have overpaid its creditors.
"They paid more than they can afford given the current policy mix" of high government spending during the pandemic, said Diego Ferro, founder of M2M capital in New York.
Argentina's new bonds will begin trading after the deal's Sept. 4 settlement date and may yield an average of 12%, according to analysts. That leaves them deep in distressed territory, reflecting some skepticism about the country's creditworthiness after three defaults this century alone.
"While a high participation bond restructuring is a prerequisite for restoring debt sustainability, it is only part of the solution," said Thomas Laryea, counsel for Orrick, Herrington & Sutcliffe in Washington, who advised one of the creditor groups in the talks. The country needs "to commit to and implement credible economic policies that would promote growth and raise payment capacity and thereby contribute to debt sustainability."
Argentina is also in the process of restructuring its foreign debt under local law. The period of early acceptance for holders ends Sept. 1, and the results will be published before the deal's Sept. 4 settlement date.
The country also plans to renegotiate its $44 billion in debt with the International Monetary Fund. Last week, the government formally asked for talks to replace its financing arrangement from 2018. Officials will only request enough money to refinance the existing obligations, and the nation plans to continue making interest payments during the talks, IMF executive director for the Southern Cone Sergio Chodos has said.
President Alberto Fernandez, speaking in the televised address Monday alongside Guzman, framed the moment as a campaign promise fulfilled, having told voters on the trail that they wouldn't bear the brunt of Argentina's debt burden.
He emphasized that the debt restructuring marked the beginning of a way out of the "labyrinth" his government inherited when it took office Dec. 10. Looking forward, he promised to lay out a long-awaited, big-picture economic vision in his annual budget proposal going to Congress in September. The government intends for a primary fiscal deficit of 4.5% of growth domestic product next year, Guzman added.
Ecuador also announced the results of its own debt restructuring on Monday, in which 98.5% of bondholders agreed to exchange the nation's overseas debt for new notes, restructuring a total $17.4 billion in bonds.