Argentina's River Plate Refuses to Play Match in Madrid
(Bloomberg) -- The title match of South America's club soccer championship was thrown into disarray again when Argentina's River Plate refused to play the rearranged final in Spain.
River doesn't want to play the match in Madrid's Santiago Bernabeu stadium because it will hurt fans who originally paid to watch the Nov. 24 game at River's El Monumental stadium, the club said in a statement on its website. It will also make the match less competitive.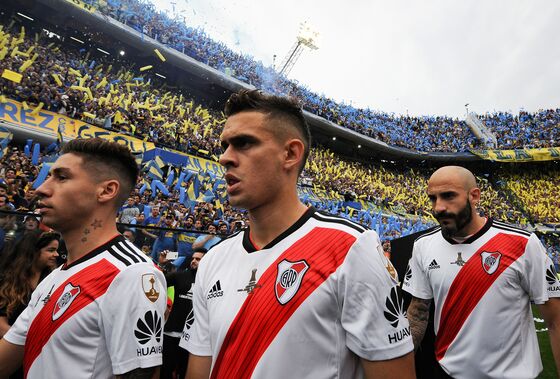 The Copa Libertadores match with Buenos Aires rival Boca Juniors was canceled after River fans attacked a bus carrying the opposition team. It was rescheduled for the following day on Nov. 25, then scrapped by the regulatory body for South American soccer.
Conmebol eventually arranged for the game to be played Dec. 9 in Madrid. The timetable is tight, partly because of this weekend's G-20 summit in the Argentine capital and partly because the draw for the first round of the 2019 championship is due to take place later this month.
FIFA President Gianni Infantino said he wasn't aware of the club's decision. Speaking on Saturday on the sidelines of the G-20 meeting and shortly after the club's statement came out, he said Conmebol will need to make a decision.
"My personal opinion is that the game always needs to be played," Infantino told journalists. "Football can't stop, the ball can't stop -- we'll see how we make it happen."
The two teams tied the first game of their two-match final 2-2 at Boca Juniors' stadium.