Argentina's President Caves to Kirchner in Cabinet Reshuffling
(Bloomberg) -- Argentina's President Alberto Fernandez replaced his cabinet chief a day after his vice president publicly blamed him for the political crisis that has roiled the ruling coalition since it lost an election Sunday. 
Juan Luis Manzur was named as the new cabinet chief as part of a cabinet reshuffling. Manzur, governor of the province of Tucuman and a former health minister under the presidency of now-Vice President Cristina Fernandez de Kirchner, will replace Santiago Cafiero, according to a statement sent by the president's press office on Friday night. 
The changes seek to dampen a political crisis unleashed by a damaging loss in midterm primaries held Sept. 12, which exposed the differences in the ruling coalition Frente de Todos. 
The appointments come just a day after Kirchner called for an overhaul of the cabinet in an open letter that blamed the president for the poor result in the midterm primary vote. In the letter, she said she had proposed Manzur for the cabinet chief post in a face-to-face conversation with Fernandez earlier in the week. 
ARGENTINA REACT: Cabinet Reshuffle, IMF Shift Lower Odds on Deal
Kirchner, who chose Fernandez to lead their Peronist coalition for the 2019 presidential elections, called the midterm primaries a "political catastrophe" caused by his economic strategy. She criticized him for his lack of social spending, adding pressure on Fernandez even as he seeks to renegotiate a $45 billion loan with the International Monetary Fund.  
The reshuffling includes changes to six minister-level positions while the economy and production ministers remain unchanged. Cafiero will become the foreign affairs minister.  
"This cabinet is just a response to internal demands to restructure the government's team, and this is what came out of that," said Lucas Romero, director of consulting firm Synopsis Consultores, in a phone interview. "The paths of the coalition and the government remain under pressure."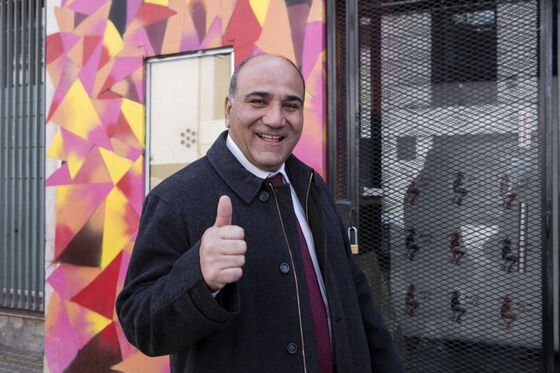 Kirchner is likely not to be completely satisfied by the changes because the two key jobs in charge of setting the economic path, the economy and production ministers, remained unchanged, Romero added.
Ministers named Friday will be sworn to their new roles on Sept. 20 at 4 p.m. local time. Several ministers aligned with Kirchner, who had offered to resign Wednesday, including interior minister Eduardo de Pedro, remain at their current roles. 
Other new appointments include:
Anibal Fernandez, a former cabinet chief under Kirchner, as security minister
Julian Dominguez as agriculture, livestock and fisheries minister
Jaime Perzyck as education minister
Daniel Filmus as science and technology minister
Juan Ross as communication and press secretary