Argentina's Macri Says Capital Controls are an Emergency Measure
(Bloomberg) -- Argentina's President Mauricio Macri said that the capital controls his government introduced on Sunday are an emergency, short-term measure.
In his first public comments on the policy, Macri addressed a group of prominent business leaders at an event in Buenos Aires. "We don't like these measures," he said. "They are only justified in an emergency and for a limited time."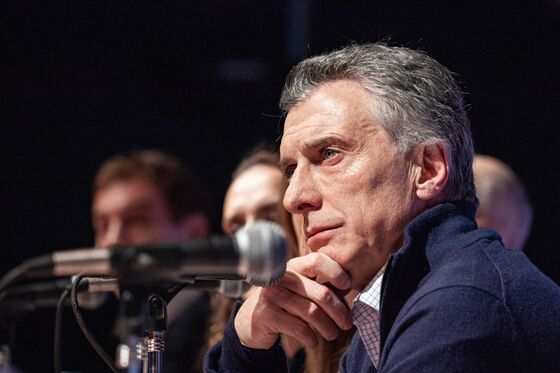 An escalating financial crisis forced Macri to restore capital controls years after he scrapped them on taking office in late 2015. Investors are fretting over the likelihood that the pro-business Macri will lose October's presidential election to the leftist coalition of his rival, Alberto Fernandez. So far, the capital controls have brought a degree of stability to the peso, though the central bank had to intervene in the spot market on Tuesday to avoid a currency depreciation.
"The controls were implemented with the objective to defend exchange rate stability and savers," Macri said. "They were implemented to prevent greater harm, and designed to be as least invasive as possible."
Fernandez has yet to comment directly on the latest measures, though he tweeted earlier that Macri's economic model had caused "recession, poverty and the destruction in the value of our most emblematic companies." Last Friday the opposition candidate said Argentina is in virtual default, after the government announced a debt re-profiling plan with its creditors, including the International Monetary Fund.
The favorite to win the presidency is currently teaching politics at a university in Spain. He is due to return to Argentina over the weekend, as the official campaign officially begins on Sept. 7.
While Macri said that he is in constant communication with the opposition over the measures needed to stabilize the economy, Argentina's political uncertainty is weighing on growth expectations. Economists have revised their forecasts for a rebound in growth in 2020 with predictions of a third year of contraction.