Argentina's Guzman Rules Out Changes to Latest Debt Offer
(Bloomberg) -- Argentina's bondholders shouldn't expect any more improvements or changes to the country's debt restructuring proposal, Economy Minister Martin Guzman said.
The government sees no room for further modifications on an amended offer released Sunday night, part of Argentina's bid to restructure $65 billion of debt. The proposal gives bondholders about $13 billion more than its initial plan announced in April.
"Clearly not," Guzman said Wednesday, responding to a question about modifying the deal in any way. "Negotiations were performed until the moment in which we launched the offer. Now there's an offer, and creditors will decide on that offer."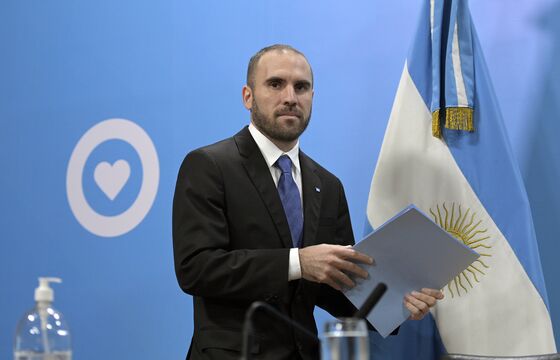 Mired in recession, Argentina defaulted for the ninth time in its history on May 22, with the government repeatedly extending the deadline for a deal as negotiations dragged on between offer and counteroffer. Along the process, the government said several times that it was making its best effort.
READ MORE: Argentine Policy Mix Flirts With Past Interventionism
The government, which set minimum participation rates in its latest offer, will assess a partial exchange after seeing the level of creditor participation, Guzman said in an interview held with foreign press at the Economy Ministry.
"As of today, all alternatives are possible within the constraints that we have defined but the final decision is going to be made once we have more clarity on the process, on the acceptance from creditors," Guzman said when questioned about a partial exchange.
Referring to minimum participation levels, he added, "the offer is designed to, first, make sure that every creditor that decides to accept the offer is on the good side of liquidity, so it's designed in a way that protects creditors that accept."
The minister said he expects to receive opposition from one of Argentina's largest creditor groups, known as the Ad Hoc group, which includes investor heavyweights like BlackRock Inc and Ashmore Group Plc. Later that evening, that group published a joint statement with the Exchange Bondholder group, which noted they would not support the latest proposal, but saw it as a step in the right direction.
The offer "falls short of a proposal that can be supported by Argentina's most significant creditors," according to the statement. "While we do not accept Argentina's latest proposal, encouragingly it does provide a basis for constructive engagement."
Guzman added that some creditors are already on board and touted praise from a few G-20 finance ministers, who met virtually Wednesday and expressed support for Argentina. International Monetary Fund Managing Director Kristalina Georgieva also backed Argentina's efforts at the summit.
Argentina will seek a new program with the IMF as soon as it wraps up talks with private creditors, he added, noting that "we need to borrow from the IMF to pay the IMF." Asked about the possibility that a partial exchange with private creditors could affect IMF negotiations, Guzman insisted the two are separate issues and the IMF wasn't involved in Argentina's restructuring with private bondholders.
Guzman added that the government will look to negotiate with the Paris Club after a new deal with the IMF.
Guzman ruled out making tweaks including adding a sweetener to the offer, one of the options that had come up during negotiations over the past month. He added that paying accrued interest in cash, which is a sticking point with some of Argentina's creditors, is out of the question. Argentina is offering to pay accrued interest through new bonds that would mature in 2030.
"Argentina has very tight constraints today-- it doesn't have any capacity to pay anything today," Guzman said in a response to a question on paying part of the accrued interest in cash.
Beyond Argentina's debt, Guzman faces a harrowing economic recovery once the country gets through the Covid-19 pandemic. Argentina is expected to contract 12% this year, on pace for its worst one-year decline in history, amid a strict quarantine that began on March 20 and is expected to remain at least until July 17. Guzman said job creation is the government's number one post-pandemic priority.
"The state will have to play a role through productive policies and through active management of aggregate demand and credit policies in order to create incentive for job creation," Guzman added.