Argentina Rates Drop as Traders Find Something to Believe In
(Bloomberg) -- Argentina's highest-in-the-world interest rates are finally coming down as investors gain confidence that the central bank's monetary plan is credible and yielding results.
The key monetary rate has tumbled more than 11 percentage points in just the past two weeks to a five-month low of 43.971 percent as the central bank stamps out volatility in the peso and a more favorable global backdrop adds to optimism. The so-called Leliq is set by daily auctions rather than by the central bank, a change made in October after Argentina unveiled a record $56 billion credit agreement with the International Monetary Fund.
"There's confidence, at least temporarily, that there's stability in the exchange rate," said Alejo Costa, the chief strategist at BTG Pactual Argentina.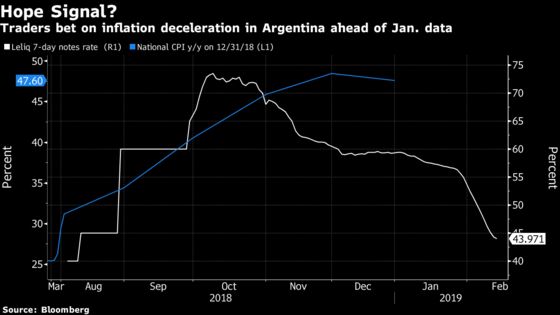 A stable currency may seem a mundane accomplishment, but it's quite a feat for Argentina following a crisis last year that made the peso the world's worst performer and fueled a surge in inflation. President Mauricio Macri is focused on getting consumer-price increases under control while trying to end a recession ahead of a re-election bid later this year. The peso's recovery -- even though it's still the worst performer in Latin America this year -- makes his economic growth goals easier by allowing for lower borrowing costs.
The currency's rebound, which has been larger than expected, has also given the monetary authority room to buy dollars and build reserves through the funds disbursed by the IMF. Now, as inflation-adjusted rates get closer to the minimum 7 percent that BTG Pactual deems attractive, analysts expect the Leliq drop to slow. Economists surveyed by the central bank see end-of-year inflation at 29 percent and the Leliq at 37 percent.
Some have speculated that a change in the way the central bank auctions Leliq, implemented in late January, contributed to the rate drop. By offering fixed amounts of the notes each morning, the bank creates incentives for banks to compete against each other to get them, as the alternative 1-day repo pays 80 percent of Leliq, according to local broker SBS Group.
Investors will be watching January inflation data, set for release Thursday, for signs of easing pressures. If monthly core inflation in January or February is higher than 3 percent that would raise alarm bells, according to Costa. The median estimate of analysts surveyed by Bloomberg is for January price increases of 2.5 percent.
Bloomberg Economics Primer: Argentina, Between a Rock and a Hard Place
The peso has lost 1.9 percent this year, trading at 38.39 per dollar at 1:11 p.m. in Buenos Aires, after a 51 percent drop last year. In mid-January, it strengthened past the target range established as part of the IMF deal, leading the central bank to buy as much as $75 million per day.
"If it strengthens below the floor again, we'll be back to fine tuning," said Alejandro Cuadrado, a foreign-exchange strategist at BBVA in New York. "The monetary policy mechanism is still in its early stages, with constant adjustments and one eye on the monetary base and the other on the exchange rate."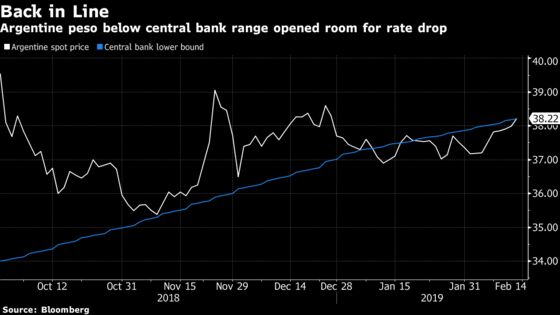 Still, others are watching the rate drop with caution, citing a quick plunge earlier in Macri's administration as a key factor that upended inflation expectations, eventually leading to a weaker exchange rate and less investor confidence.
"I'm very worried that they're falling too quickly," said Luis Secco, a former cabinet chief at state-run Banco Nacion who leads research firm Perspectivas Economicas. "The priority should be to maintain central bank credibility and show that the objective is to slow inflation. Anything that puts that in doubt will come at a cost later."
But the picture isn't quite the same as it was in 2017, note analysts at Balanz Capital, pointing to a stronger current account as well as slower growth in the monetary base and amount of currency in circulation.
"We continue to recommend locking in high real interest rate spreads," they wrote in a note recommending inflation-linked bonds. "The prospect for lower nominal rates on Leliqs will spur a hunt for yield among local mutual funds and insurance companies."