Argentina Inflation Cools as IMF Eyes Monetary Policy Shift
(Bloomberg) -- Inflation in Argentina cooled last month as the government's strategy to tackle persistently high prices becomes a focal point of negotiations with the International Monetary Fund. 
Consumer prices in November rose 2.5% from October, below the 3.3% median estimate of economists surveyed by Bloomberg. From a year ago, inflation reached 51.2%, according to government data published Tuesday. The monthly figure matched the lowest level of inflation this year, tied with August's reading.
Hotels, restaurants and clothing led all categories in price increases while food costs, which has the largest weight in the index, were below the headline figure.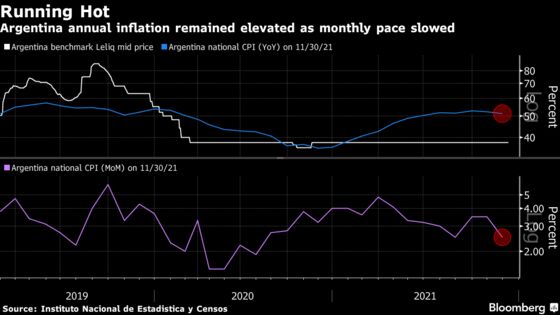 Last week, the International Monetary Fund said thwarting high inflation in Argentina requires "appropriate monetary policy," including interest rates that exceed annual inflation, among other issues. The central bank's benchmark interest rate is only 38%. 
Argentina and the IMF continue negotiating a new program to reschedule payments on over $40 billion owed to the lender stemming from a record bailout given to the nation in 2018. The IMF issued its statement after a week of technical negotiations with Argentina officials in Washington. 
Economists surveyed by the central bank forecast that inflation will end this year at 51.1% and next year at 52.1%, according to the most recent survey.