Argentina Has New Currency Problem: This Time a Stronger Peso
(Bloomberg) -- Argentine central bank president Guido Sandleris is facing an unusual problem. The peso has rallied so much in recent months that it's testing a currency band designed to help the bank rebuild its credibility.
The band was conceived in September with the blessing of the International Monetary Fund when the peso was losing half of its value amid a selloff. It was supposed to allow for a slow and controlled weakening of the currency, which now floats within a defined range that's adjusted daily. If it strays above or below that range, the central bank can -- but is not obliged to -- sell or buy dollars to intervene in the exchange rate.
Few economists expected the peso would then become one of the best-performing emerging market currencies. It's rallied 10 percent against the dollar since the rolling out of the plan, which also included freezing the amount of pesos in circulation and keeping interest rates near 60 percent, a world high. While a stronger currency is helping Argentina fight inflation and adjust its external accounts, it might again hurt the bank's credibility depending on how Sandleris deals with it.
"We believe the central bank should communicate its strategy clearly, otherwise its credibility may be compromised," said Priscila Robledo, economist at Continuum Economics. "Buying dollars to increase peso liquidity while simultaneously paying extremely high rates to reduce the money base does not sound like the best strategy."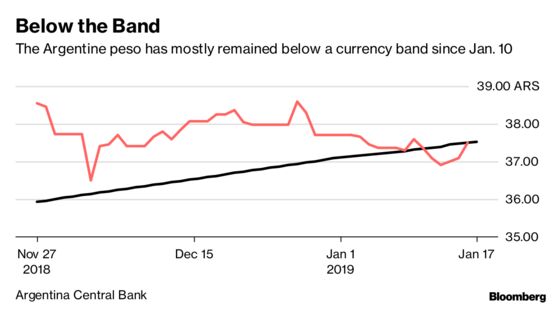 So far, Sandleris' efforts to defend the band haven't worked. The central bank has bought $190 million since Jan. 10, but the peso has remained mostly under the defined range. The currency closed at 37.5 to the U.S. dollar on Wednesday, within the band.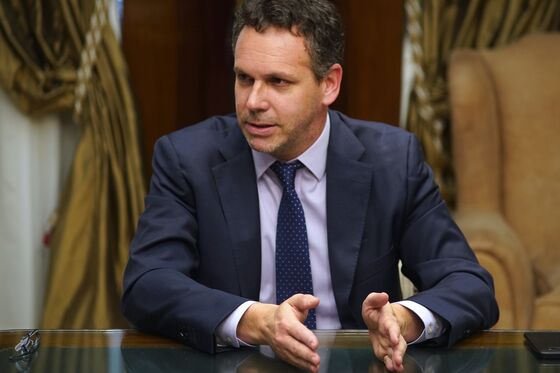 Lowering interest rates faster could boost borrowing and economic growth, while reducing demand for pesos in the market. But that strategy carries its own risks. Former central bank chief Federico Sturzenegger lowered interest rates in January 2018, only to sharply raise them in April. He resigned in June, admitting he'd lost credibility.
"What they don't want is to lower rates the moment confidence has been reestablished only to raise rates again if the peso plunges again," said Sebastian Martinez, a macroeconomic analyst at Argentine consulting firm ABECEB.
Much of the peso's recent gains are simply a correction from last year's losses, combined with a rebound in global investors' appetite for risk this year. Domestically, inflation is slowing and President Mauricio Macri, the market favorite, has seen a bump in approval ratings.
Yet there's good reason to expect the peso will eventually weaken. Argentina is in a recession, inflation is expected to end this year around 30 percent and uncertainty surrounding the October presidential election could trigger another currency rout.
"They're moving cautiously, but I believe they're going to keep buying," said Soledad Tortarolo, head of fixed income research at brokerage firm Allaria Ledesma & CIA in Buenos Aires. She expects the bank to increase the daily amount it can buy to $150 million. "It's important to defend the band."