Argentina Had a Communication Problem. She's Helping to Fix It
(Bloomberg) -- Veronica Rappoport landed in Buenos Aires in September with a mission: to help end a currency crisis brewing during months of communication missteps and erratic central bank policies.
It was no easy task. The peso was in a tailspin and the International Monetary Fund had just urged the central bank to improve its communication. Argentina faced a full-blown confidence crisis that arguably had its seed planted nine months earlier, when policy makers unexpectedly eased inflation targets, fueling speculation that President Mauricio Macri was pressuring for lower interest rates to juice economic growth.
Since that fateful change, two central bank presidents have resigned. The incumbent, Guido Sandleris, started his job in September as Argentina renegotiated an expanded IMF bailout of $56 billion. He called on Rappoport, then an associate professor at the London School of Economics and a longtime college friend, to help him stop the currency hemorrhage. She joined the bank as one of its two vice presidents along with Gustavo Canonero, who had arrived in June, and became the highest-ranking woman in the institution during the Macri era.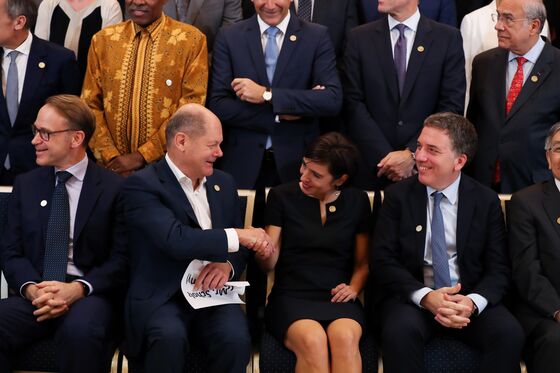 Rappoport quickly went on a charm offensive, meeting with investors and opinion makers to explain a complex package of measures -- freezing the monetary base and imposing a currency band among them -- that had just been launched to deal with the crisis. Three weeks after her appointment, she was sent to the IMF fall meeting in Bali to be the face of the Argentine central bank. She now helps oversee the bank's communication strategy, from wording in press releases to briefings with investors to an overall redesign of its website and data base, according to a person with direct knowledge of her work.
While Argentina's crisis has deeper roots, policy makers' inability to clearly convey their message was exacerbating the problems. So far, the central bank's new policies and improved communication have stabilized the currency. After plunging more than 50 percent against the U.S. dollar by the end of September, the peso has since gained nearly 10 percent. Inflation has cooled for three straight months. Argentina's sovereign risk has fallen significantly.
"Communication has improved and monetary policy has become more realistic since Sandleris, Canonero and Rappoport took over, considering the bank's limitations," said Fausto Spotorno, chief economist at Orlando Ferreres & Asociados, a local consultancy. "Rappoport is a very good economist."
The IMF has also taken note. Praising Rappoport's "sharp analytical mind," a spokesman for the fund said communications have since become more "timely and transparent, and by doing so they have helped strengthen the credibility of the central bank." He added that "she represents a strong addition to the group of very competent professionals at the Argentine central bank."
Rappoport, 46, joined the central bank's board four months after IMF Managing Director Christine Lagarde publicly reprimanded Argentina's all-male negotiating team, saying it was "short on women." The bank and the IMF both say Lagarde's comment had nothing to do with her appointment. Rappoport declined to be interviewed for this article.
Raised in Buenos Aires, she earned her doctorate at MIT, then went on to teach at Columbia and LSE. Despite spending much of the last two decades abroad, Rappoport has been involved in Argentine policy circles. She served as an adviser in the economy ministry in 2000 and her father is currently a deputy at the interior ministry.
Sandleris relies on her no-nonsense approach to help guide policy making, according to those who know both of them closely.
She has "an impact both in the design but also in the communication of policies," said Natalia Ramondo, an economics professor at UC-San Diego who went to college with the two central bankers and remains close with Rappoport. "He definitely trusts her, both professionally and personally."