Argentina Formally Starts Producing Russia's Sputnik Vaccine
(Bloomberg) -- Argentina and Russia's president formally announced Friday that a pharmaceutical company in the South American nation will start producing the Sputnik V Covid-19 vaccine.
Presidents Vladimir Putin and Alberto Fernandez spoke in a webcast event to kick off the vaccine's production at Laboratorios Richmond S.A. in Buenos Aires. Ties between the two nations have deepened after Fernandez agreed to buy the Sputnik vaccine, developed by Russia's Gamaleya Institute. Argentina was at one point the only country outside of the former Soviet Union to inoculate its citizens with the shot.
"In Argentina, we say we get to know our friends in difficult times," Fernandez said at the event. "And when we were going through a difficult time, the Russian government, Russia's sovereign fund and the Gamaleya Institute stood by our side."
Argentina bet big on Sputnik last year as talks with other labs hit snags and production of the AstraZeneca vaccine in Latin America faced major delays. The country has received 8.9 million Sputnik doses this year, accounting for nearly half of its total vaccines, including 7.79 million doses of the first shot, and 1.14 million of the second.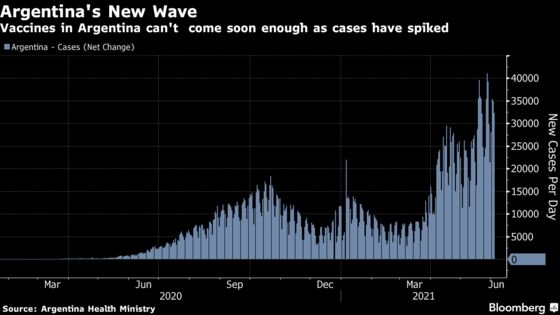 The campaign faced public skepticism until a peer-reviewed study by the Lancet medical journal said the vaccine protects against the deadly virus about as well as U.S. and European shots, and far more effectively than Chinese rivals. Now, critics caution against growing delays in receiving the second dose to complete the inoculation process.
Before Argentine pharmaceutical regulators even approved the Russian vaccine in December, Fernandez had already sent a plane from state-run Aerolineas Argentinas to Moscow to pick up the first batch. In total, the airline has sent more than 15 passenger planes since December to Russia on 40-hour journeys to pick up vaccines.
Fernandez, who received both Sputniks jabs himself, set expectations high last December, promising to vaccinate 10 million Argentines with Sputnik before the end of February, a threshold vaccinations only crossed in recent days