Argentine Peso Jumps After Central Bank Acts to Reverse Sentiment
(Bloomberg) -- Argentina's central bank announced new steps Monday aimed at shoring up the currency, sending the peso to its biggest gain in six weeks.
The bank moved to reduce the number of pesos in circulation by raising reserve requirements for banks, a measure that will absorb 60 billion pesos ($2.1 billion) in liquidity. Policy makers also increased interest rates on local central bank notes known as Lebacs that come due over the next few months to pay yields as high as 52 percent.
The steps are part of new central bank chief Luis Caputo's efforts to stem the selloff in the peso, which has tumbled 34 percent this year for the worst performance in emerging markets. President Mauricio Macri is trying to boost confidence after obtaining a record $50 billion credit line from the International Monetary Fund in the wake of the currency rout.
The peso gained 1.9 percent Monday to 28.3 per dollar for the biggest advance since May 15.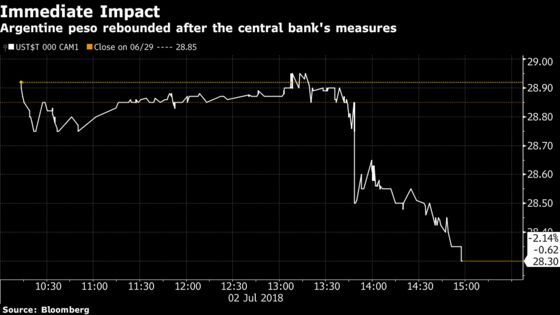 The government has no plans to add capital controls, Treasury Minister Nicolas Dujovne, Finance Secretary Santiago Bausili and Economic Policy Secretary Guido Sandleris told investors during a conference call meant to assuage concerns.
They added that Argentina will borrow mostly in the domestic market in 2018 and 2019. The government will only raise funds abroad in 2019 to pay for $3 billion of maturing debt.
"The most important objective is to regain the confidence of the markets to lower the cost of financing," Dujovne said during the call. "That's our No. 1 objective."
Stocks didn't fare as well as the peso, with the benchmark Merval equity index reaching the lowest since September.