Argentine Economy Grew More Than Expected Amid Reopening
(Bloomberg) -- Argentina's economy expanded up more than expected in July as Covid-19 cases and lockdown restrictions continued to ease.  
The economy grew 11.7% in July from a year ago, faster than the 8.5% median estimate of analysts surveyed by Bloomberg. Activity in July expanded 0.8% on a monthly basis, a slower pace from June, according to government data published Tuesday.   
All but two sectors posted annual gains in July. Argentina's hotels and restaurants saw activity grow 55%, while construction and manufacturing also recorded double-digit gains.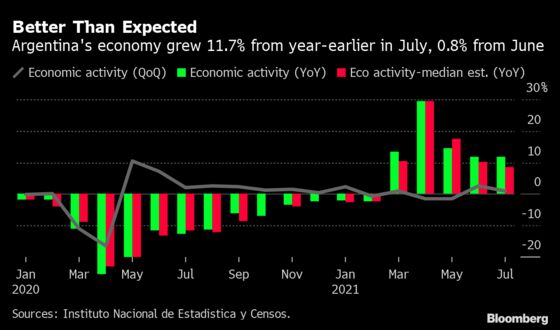 The recovery has sputtered at times this year as elevated inflation, a massive Covid wave and some export restrictions worsened an already challenging business environment. President Alberto Fernandez is seeking to increase government spending before a midterm vote in November, potentially complicating the economic outlook and an agreement with the International Monetary Fund. 
His government expects the economy to grow 8% this year, boosted by the base effect of the economy's steep decline last year. Private economists see an expansion of 7.2%, according to the central bank's monthly survey.