Argentina Central Bank Seen With High Policy Rate Through March
(Bloomberg) -- After five consecutive days of increases in the monetary policy rate, leaving it close to 50 percent annually, analysts expect Argentina's central bank will maintain this level until next month to reduce the peso's volatility and avoid further inflationary pressure.
The abrupt capital outflow that took place this week made Argentina's peso the worst emerging markets performer year to date. The depreciation came after inflation unexpectedly quickened in January as the policy rate fell sharply, forcing the central bank to tighten its monetary plan.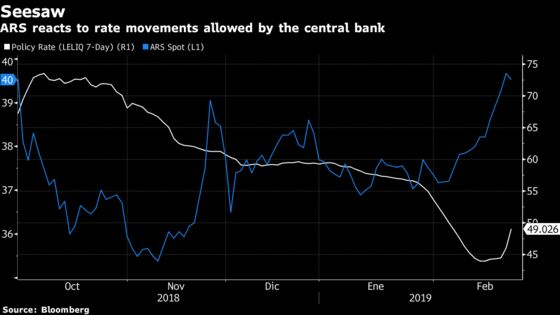 "High inflation and some of the adjustments made create pressure for rates to remain high in the short term," said Alejandro Cuadrado, a senior currency strategist at BBVA in New York. "With one eye on the peso, the adjustments will continue depending on how the market dynamics unfold."
The rate has risen as the central bank absorbs a greater amount of pesos from the economy. The bank is studying the possibility of increasing the absorption beyond what it announced on Monday for the end of February, a person with direct knowledge of the decision said on Tuesday. The International Monetary Fund agreement sets a stock of ARS1.38 trillion for this month's monetary base, while the central bank has a self-imposed stricter goal of ARS 1.34 trillion.
The monetary policy rate may remain between 47 and 50 percent through March, said Pilar Tavella, economist at Barclays Capital Inc.. The average Leliq rate was 49.026 percent on Thursday, 509 basis points higher than the low reached on Feb. 14.
Joaquin Gonzalez Gale, a trader at INTL FCStone in Buenos Aires, also expects the Leliq rate to remain at these levels until next month.
"There was a good increase, but I think this is as far as we go," he said. As the central bank seeks to exceed the February target, it can now maintain that level "to avoid the rate increasing further."
The Argentine peso strengthened 0.4 percent to 39.53 per U.S. dollar on Thursday, its biggest gain since Feb. 1. Citigroup analysts agree with Barclays's views, and forecast the peso will stay close to the floor of the non-intervention range.
The foreign exchange market is likely to endure volatility, but "the fundamentals remain solid," Citigroup economists Andrea Kiguel and Fernando Diaz wrote in a report dated Feb. 20.
For Tavella, "the rate oscillations and the exchange rate in recent weeks" show that the monetary plan's design is working.