Argentina Central Bank Is Said to Near End of a Key Rate Floor
(Bloomberg) -- Argentina's central bank may eliminate the floor on its benchmark interest rate in early December if it sees a second consecutive decline in inflation expectations, according to two people with direct knowledge of the plan.
The decision to eliminate the 60 percent floor may come as early as Dec. 3, said the two people. Policy makers want to see both the median and average estimate for 12 month CPI expectations drop in the November survey of economists, the people said. The survey will be published on Dec. 4.
The easing of monetary policy may aide an economy that is headed into its second recession in three years. The central bank had promised to hold the key rate at at least 60 percent as part of a record $56.3 billion credit line with the International Monetary Fund. The bank raised rates to the highest in the world in October to slow the decline in the currency.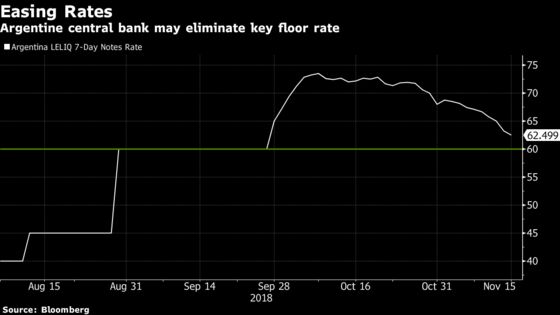 Expectations fell in the central bank's October survey of economists, which came out Nov. 2. The benchmark rate has fallen more than 10 percentage points to 62.5 percent on Thursday. It is set through daily auctions of 7-day Leliqs.
The new monetary policy, which includes a currency band in addition to the daily auctions, has stabilized the peso, the worst performing currency emerging markets this year. The peso is up 15 percent since on Sept. 28, a day before the new policy was put in place . Analysts have warned that the extremely tight monetary policy will have a negative impact on economic activity. Argentina is expected to be in recession this year and next.