Argentina Braces for Ninth Default 
(Bloomberg) -- Argentina's leader Alberto Fernandez faces a defining moment in his presidency Friday as the nation braces for its ninth sovereign debt default.
After five months in office grappling with recession, 50% inflation and a crash in the unofficial peso rate, Fernandez is trying to strike a deal with bondholders over the coming weeks to prevent even worse chaos.
If he succeeds, there may be light at the end of the tunnel for an economy that was in deep trouble even before the coronavirus pandemic, and an increased chance that Fernandez will solidify his power within the government coalition. If he fails, and there's a disorderly default on $65 billion of overseas debt, it'll be another major blow to the rapidly shrinking economy.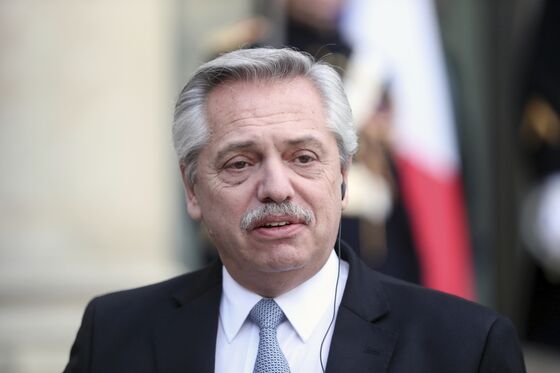 "A hard default would mean Argentina loses its chance at an orderly economic recovery," said Alejandro Catterberg, director of Argentine consulting firm Poliarquia.
It's familiar territory for a country that has spent a third of its modern history in recession, trapped in a loop of boom-and-bust cycles. And for Fernandez, a veteran political operator who rose to power late last year, the prospects are dangerous if talks fall apart.
Argentina's ambassador to the United States, Jorge Arguello, published a letter Friday saying the government wouldn't make the payment until a new agreement is reached with creditors. The Economy Ministry declined to comment and a spokesman for Fernandez didn't immediately respond to calls.
Read More: What Argentine Debt Deal Must Look Like for Solvency
A default Friday is unlikely to coincide with blood in the streets, as happened in 2001 when riots in the capital killed 39 people. Nor will it immediately sink Fernandez's popularity -- he's riding high on support for his swift Covid-19 response. However, if talks drag on or collapse after missing Friday's deadline for a $500 million payment, the ensuing chaos may start to weaken him and fragment his ruling coalition.
The government intends to extend its self-imposed deadline for negotiations, set to expire Friday, until June 2. And Economy Minister Martin Guzman is planning to revise its offer to creditors, according to an interview with Reuters published Friday.
"It's a very important deadline, no doubt, and there's a risk going beyond that," said Hector Torres, a former IMF executive board member who represented Argentina and other nations.
The nation's bond due in 2028 was little changed on Friday morning, trading at 32.91 cents on the dollar.
In practice, it's unlikely that creditors will immediately seek the repayment of all their bonds, a process commonly known as acceleration, Mark Walker, a debt restructuring expert at Guggenheim Securities, said in a Wilson Center webcast Thursday. Creditors have indicated they don't intend to litigate right after a default Friday.
Still, some creditors have expressed dismay. One of the bondholder groups said Friday "over the last month, Argentina has had virtually no substantive talks with its creditors." The Ad Hoc Bondholder group welcomed the government's stance to continue talks but added "actions speak louder than words."
The government believes that, even amid the coronavirus crisis, a hard default would still carry serious economic and political costs, and is keen to reach a deal, according to one official who asked not to be named because he isn't authorized to speak publicly about the negotiations. Fernandez said Thursday that he wants to reach an "honorable" deal, without leaving the country saddled with unpayable debts.
'We aren't going to subject Argentina to new obligations that we can't meet," he said.
Argentina is negotiating bonds issued from 2005 onwards, including some that have already been restructured once, showing the complexity of the negotiations. Investors overwhelmingly rejected the government's first offer, and now wait for a second proposal after a series of counteroffers from creditors.
Although there's no 2001-style panic, Argentines have been quietly preparing for the worst. Savers have withdrawn $1.2 billion in dollar deposits over the past 20 business days. Demand for dollars is so high that the illegal exchange rate has widened to nearly twice the official rate, which is anchored by currency controls.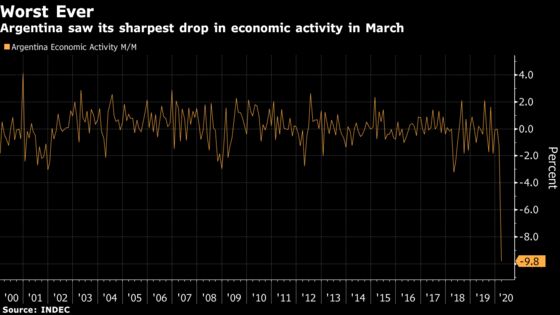 Argentina's central bank has sent the treasury 730 billion pesos ($11 billion at the official rate) since the lockdown was announced March 19, to finance spending while the government remains cut off from credit markets.
Economic activity in Argentina plunged 9.8% in March from February, the sharpest drop on record, according to data that go back to 2000.