Argentina Dollar Bonds Slip to 8-Month Low on Wait for Economic Plan
(Bloomberg) -- Argentina's dollar bonds extended declines Wednesday, with its bonds trading at an eight-month low, amid jitters ahead of a key week in which the government is expected to submit a bill with details on its upcoming economic plan. 
The nation's $20.5 billion in dollar-denominated bonds due in 2035 fell to as low as 29.3 cents on the dollar, the lowest since March, dropping further below the 30 cent benchmark. The bonds have returned -16% year-to-date, the worst performance in Latin America after El Salvador. 
The slide comes just 10 days after investors cheered the outcome of midterm elections, in which President Alberto Fernandez's leftist coalition lost control of the senate. After the vote, Fernandez said the government would submit a bill to congress with a multi-year economic program in the first week of December that will include the "best understandings" reached with the International Monetary Fund, with which the government is negotiating to refinance over $40 billion in payments owed. The government hasn't given additional details of progress since. 
"Bonds are being punished because there is still no deal with the IMF, and investors are waiting for the multiyear plan," said Paula Gandara, head portfolio manager at Buenos Aires-based AdCap Asset Management, who recommends buying Argentine bonds at these price levels. "An agreement is challenging as government also needs backing from the opposition."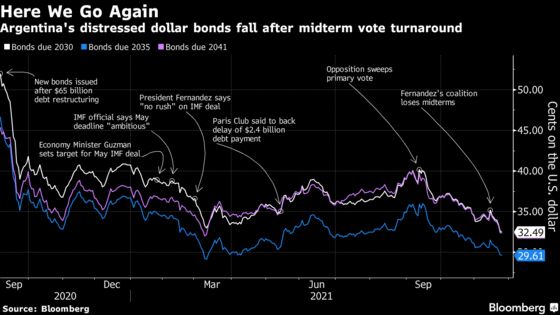 Any deal with the IMF will need approval from Congress. The government still hasn't given a precise date for when it will submit its bill to congress, or whether a final program with the IMF will also require an additional vote from lawmakers.  
Until then, fund managers point to the ramp-up in public spending ahead of the midterm vote as a red flag ahead of the talks with the Fund. Walter Stoeppelwerth, a fund manager at Gletir Corredor de Bolsa, said that Economy Minister Martin Guzman's credibility with the IMF is "problematic."
"A government that recently unleashed a massive pump priming campaign for a midterm election will have a difficult time convincing the IMF team regarding its fiscal consolidation credentials," he wrote in a report.