Argentina Bonds Climb as President Promises Plan After Vote
(Bloomberg) -- Argentina's bonds gained Monday after voters rejected the government's handling of the economy in midterm elections and President Alberto Fernandez promised to cooperate with opposition lawmakers on a new agenda.
The nation's $20.5 billion in dollar-denominated bonds due in 2035 rose as much as 1 cent to about 31.2 cents on the dollar, their biggest gain since the aftermath of primary elections held Sept. 12. U.S.-traded shares of Argentine companies fell around 1.8%, as of 3:10 p.m. in New York, according to a S&P and Bank of New York Mellon index of ADRs.
Fernandez's left-wing coalition was behind in six of eight senate races with at least 98% of votes counted in each province after Sunday's ballot, marking the first time that Peronism, the movement founded by Juan Peron in the 1940s, loses control of the upper chamber of congress for the first time since 1983.
Speaking after the results came in, Fernandez said the government will submit a bill with a multi-year economic program in the first week of December, and will seek consensus from the opposition on a shared agenda. Fernandez said he'll work on a deal with the International Monetary Fund over its debt, saying it was the nation's "biggest stumbling block." He added that he wouldn't seek a path of austerity with the Fund.
"The government's message is very positive in terms of showing a strategy of unity with the opposition for the second half of its mandate," said Agustin Honig, managing director for Adcap Securities in Buenos Aires. "Without a doubt, seeking the opposition's support for a multi-year economic plan with the IMF is a strong signal, and in line with what the market wants to hear."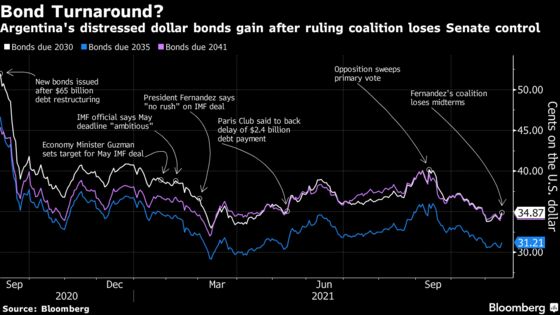 Investors will also be keeping an eye out on the next statements from Vice President Cristina Fernandez de Kirchner, who herself was president from 2007 to 2015. After the September primary, she published an explosive essay criticizing the president over strategy, including what she said was a lack of spending. It's unclear what policy or cabinet changes Kirchner may now demand. She didn't comment on the results Sunday night.
The ruling coalition's electoral loss was a rare boost for Argentina's hard-hit dollar bonds, which sunk into deeply distressed territory soon after the nation restructured around $65 billion in overseas securities last year. 
The securities have failed to recover as investors have remained wary of Fernandez's management of the economy, racked by 52% annual inflation caused in part by populist spending meant to combat crippling 40% poverty. Argentina's economy is also hampered by strict capital controls, which have kept the official currency overvalued while the unofficial peso trades about 100% weaker, at around 216 pesos per dollar, on parallel exchanges.
"The trajectory of the peso is unsustainable and we expect to see adjustments in the official depreciation," said Alejandro Cuadrado, head of Latin America foreign exchange strategy at BBVA in New York. "President Alberto Fernandez put the IMF agreement on the agenda and we hope to see pragmatism."
Still, opposition lawmakers are likely to make sure the government takes the blame for any harsh devaluation, according to Nathalie Marshik at Stifel Nicolaus & Co.
"We have a hard time believing the opposition would want to be coerced into supporting a deal that is unpalatable to the IMF," she wrote in a note. "Our base case remains the government testing the market's patience with an IMF deal in the second half of 1Q22, with the Fund likely having to settle for a less-than-ideal agreement given political realities in Buenos Aires."