Arabs Out, Settlers In: How Trump's Peace Plan Re-Engineers Israel
(Bloomberg) -- Arabs have long complained of being second-class citizens of Israel. If the Trump administration's peace plan comes to life, some might not even be that.
Until recently, the idea of redrawing Israel's borders to put hundreds of thousands of Arab citizens into a future state of Palestine existed only on the margins of Israeli political discourse. Now, the Trump proposals unveiled last week have taken it mainstream.
The prospect of creating such a state under the plan is unlikely given the outright Palestinian rejection of the U.S. blueprint. But the fact that the idea has been put to paper has antagonized Israeli Arabs, who already suffer discrimination in the Jewish state and say it only cements something Prime Minister Benjamin Netanyahu has said before: They're not "real" Israelis.
"We are not a bargaining chip," said Muhammed Majadly, deputy mayor of Baqa al-Gharbiyeh, one of the northern towns that would be affected. "Instead of letting me feel that I belong and the sky is the limit they are putting me in a position of uncertainty and stress." Arabs make up about a fifth of Israel's 9 million people.
According to the Trump document, residents of 10 Israeli Arab communities located in what's known as "the Triangle" could find themselves remaining in their homes but stripped of their Israeli citizenship, in a lopsided swap for West Bank land where settlements stand. About 300,000 people live in this concentration of Arab towns and villages in central and northern Israel abutting the West Bank.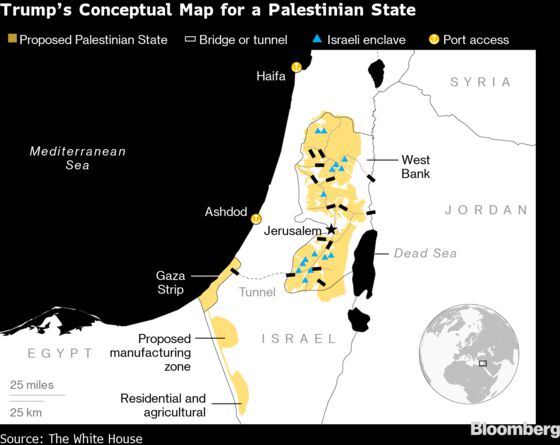 "The Vision contemplates the possibility, subject to agreement of the parties, that the borders of Israel will be redrawn such that the Triangle Communities become part of the State of Palestine," the plan says. These communities, it adds, largely self-identify as Palestinian, and were originally designated to fall under Jordanian control during the negotiations of the 1949 armistice line, but ultimately were retained by Israel for military reasons "that have since been mitigated."
Palestinian President Mahmoud Abbas said he would have no part of it. "Yes, they are our people, yes, it is our land, but I will not accept this idea under any circumstances," he said Monday at the weekly cabinet meeting.
Israeli Arab leaders are working on a way to derail the proposal, and thousands protested on Saturday in Baqa al-Gharbiyeh and in Tel Aviv.
Senior officials in Netanyahu's office say the Trump scheme is unrealistic because it requires the agreement of all sides, Channel 12 reported Sunday. The same channel reported in 2017 that Netanyahu, commonly known as Bibi, had put this suggestion to the Americans, and the Ha'aretz newspaper confirmed this on Tuesday, noting that the prime minister hasn't denied involvement.
The only strategy guiding the Trump plan "is a maximum amount of land with a minimum amount of Palestinians," said Ayman Odeh, chairman of the Joint List of Arab parties. "This is the inevitable end point of Trump and Bibi's racist agenda: a green light to revoke the citizenship of hundreds of thousands of Palestinian Arab citizens who live in northern Israel."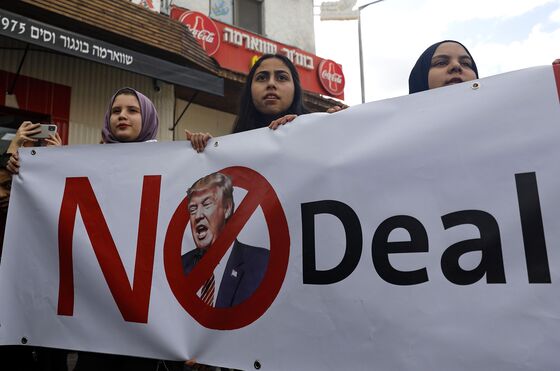 A spokesman for Netanyahu said the prime minister's office has been working with the U.S. administration on the peace plan for three years and that the work's still ongoing.
Israel was founded in 1948 as a Jewish homeland on land the resident Arab population wanted for its own state. About 700,000 Arabs fled or were expelled in fighting surrounding its creation. Arabs who remained inside the borders of the new state were incorporated, some unwillingly, creating mutual suspicions that persist and have been amplified by Israeli Arabs' identification with the Palestinian cause.
Today they see themselves as a law-abiding minority who identify as Palestinians, Majadly said.
But there are reasons for some of the Jewish misgivings. Some Israeli Arab lawmakers have visited enemy countries like Syria and relatives of dead militants who have attacked Israelis. The northern Islamic Movement has close ideological ties to Hamas, the militant group that rules the Gaza Strip and has warred with Israel three times. Some Arab citizens belong to a local party, Balad, that wants to eradicate Israel's Jewish identity so it can become a "state of all of its citizens."
Netanyahu has used this to paint a sinister picture of Arab parties and their supporters. The prime minister has repeatedly attacked Arab parties as subversive and exploited fears over the Arab vote to drive right-wing turnout. Last year, after a local celebrity criticized his assertion that Arab parties don't belong in government, he said, "Israel is the nation-state of the Jewish people -- and it alone."
A year earlier, Netanyahu pushed through a law enshrining Israel's Jewish character. Supporters contend the law is a bulwark against those who reject Jewish statehood, but critics say it undercuts democracy by omitting the commitment to full equality for all citizens codified elsewhere. It also downgraded the status of the once-official Arabic language.
Expelling citizens to another state would take that affront to a whole new level, Israeli Arabs say.
"To take me and reassign me to the West Bank is like dropping me into Ethiopia," said Naseem Ghanym, a 44-year-old shop owner worried about the future of his six-year-old daughter. "They are treating us like the merchandise I sell in my shop, selling us and buying us. At the end of the day people want to live, send their children to university, build their future. This is what we are worried about."