Sugar, Coffee Slip from Multiyear Highs as Frost Fears Ease
(Bloomberg) -- Raw sugar futures slid and coffee dropped on easing concerns of frost damage to crops in top shipper Brazil.
Brazil's key growing regions for sugar, coffee and oranges are expected to see freezing temperatures on Friday and Saturday. However, current forecasts show the cold front will be preceded by a cloud cover, steering it toward the ocean, according to Michael McDougall, managing director at Paragon Global Markets.
"This, at the present time, will mean the front will be less damaging than the last frost event on July 20," he said. "Of course, another frost event after two already just won't help" coffee crops.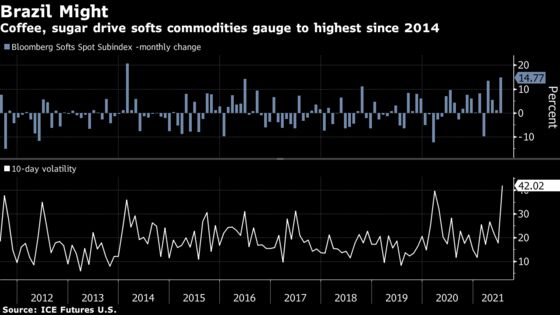 The lowest readings are expected in the southernmost regions of south Minas Gerais state, which may be as low as -3 Celsius, according to World Weather Inc. The event can produce "spotty damage" and reach one quarter of sugar and coffee areas, said David Streit, a senior forecaster at Commodity Weather Group.
Meanwhile, industry group Unica said sweetener production slipped 2.8% in the first half of July in Brazil's main producing region. The latest data on productivity and quality of sugar cane doesn't include the expected effects of the recent frosts, according to Antonio de Padua Rodrigues, technical director at Unica in Sao Paulo.
"The influence of this event should be more evident in the second half of July and in the month of August," he said, adding that low temperatures early this month forced changes in harvesting schedules in some regions, impacting yields.
Arabica coffee futures for September delivery dropped 2.9% To $2.0175 pound, retreating from the multiyear highs reached on Monday. Raw sugar for October fell 0.4% to settle at 18.35 cents a pound, after earlier hitting 18.73 cents a pound in its highest price since March 2017. Orange juice for September delivery advanced 4.1% to $1.425 a pound, the highest since December 2018, after the prior frost proved a "disaster" for groves.
A Bloomberg gauge tracking the sweetener, coffee beans and cotton jumped 15% in July and is heading for the biggest monthly increase since 2014, when drought hit the South American country.
Coffee trees, cane crops and oranges were already battered after a month of extreme cold, and a severe drought late last year. Recent dryness added to the stress, and there are expectations that La Nina weather conditions may return in the next few months, which is characterized for delaying the arrival of rainfall in South America. Sao Paulo is the world's biggest growing region of cane and oranges and Minas Gerais ranks first in arabica supplies.
Better-than-expected weather could pressure prices after the recent surge. Traders also said that a recent increase to margin requirements for coffee futures will make it harder for new bullish positions to enter the market.
"It feels to me as though we are in a very precarious market environment here," Alex Boughton a coffee and cocoa broker at Sucden Financial Ltd., said in a note. Another powerful frost could "easily" add 15-to-20 cents to prices overnight, he said.