Top Coffee Producers' Supply Woes Send Price Volatility Surging
(Bloomberg) -- Prices swings for arabica coffee spiked near the year's highest levels, spurred by supply uncertainty in top producers Brazil and Colombia and bullish tone across most major commodity markets.
Futures for the beans favored by Starbucks Corp. traded near their priciest in four years and are up for a fifth straight week for longest winning streak since 2019. In addition to a world deficit forecast after a slump in Brazilian production caused by prolonged dryness last year, shipments in Colombia have been disrupted by protests. A strengthening Brazilian real has also spurred gains and frenzy buying across raw materials propelled the Bloomberg Commodity Spot Index to its highest since 2011.
The Brazil arabica crop that has just begun is expected to drop by at least one third, and the situation is still uncertain. Dry conditions in the past few weeks hindered late-stage bean development at a time they needed rains to achieve adequate weight and size, according to Rio de Janeiro-based broker Flavour Coffee.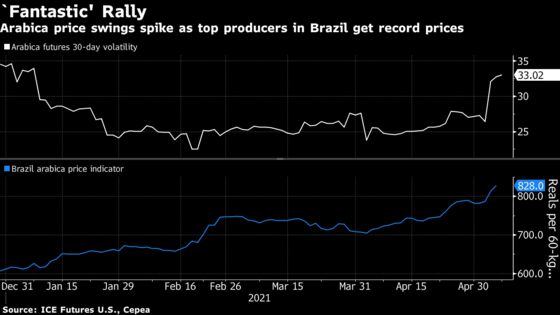 "It is possible that the final figure for the coming crop could be again revised downwards," the broker said. Local prices for high-quality coffees "that have been already called fantastic are now even better for producers and long holders" and they "rallied so strongly that it's impossible to calculate a real replacement cost."
In Colombia, "coffee is not moving to ports and it's been almost a week since the road blockades started," said Roberto Velez, chief executive officer at the Colombian Federation of Coffee Growers. "There's been no new development. The President is holding talks with all different sectors. We have to wait."