AppLovin Faces Analyst Coverage as Year's Weakest Mega IPO
(Bloomberg) -- AppLovin Corp. shares have shown few signs of life since its Wall Street debut on April 15, and now analysts get to weigh in.
The mobile-apps company is the worst performing IPO of its size, and just one of two U.S. listings that raised at least $2 billion this year to now be trading below its offering price, according to data compiled by Bloomberg. The stock has dropped 29% since its trading debut and stands at about $57, well below its offering price of $80. Its shares erased a 1.8% gain in early trading Friday and fell as much as 0.7%.
Now, AppLovin is set to receive a wave of initiations from analysts at underwriting banks as mobile-game makers face a "double whammy" of changes to Apple Inc.'s operating system and difficult year-ago comparisons after the pandemic fueled a surge in industry growth, according to Bloomberg Intelligence.
AppLovin makes tools for mobile app developers to improve marketing and monetization, and it also has its own portfolio of over 200 mobile games, according to a filing.
A quiet period for banks that underwrote the company's entry to the public market expires on Monday. The list of banks that may issue coverage of AppLovin include Morgan Stanley, JPMorgan, BofA, Citi, Credit Suisse, UBS, Oppenheimer, Stifel, Truist and William Blair.
A spokesperson for the company said AppLovin was unable to comment due to quiet period restrictions. The company will report quarterly results later next week.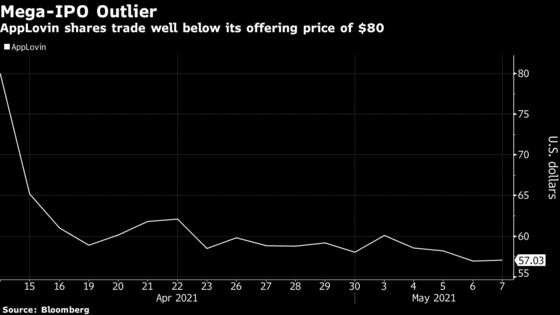 A recent update to the Identification for Advertisers, the unique Apple code linked to each device, requires that users opt into sharing data with apps. The change could limit AppLovin's ability to track ad performance and target users, which in turn, could reduce in-app activity like purchases.
"IDFA is a huge cloud over everyone in the industry," D.A. Davidson analyst Franco Granda said. "A lot of people don't want their data to be shared, and that information has been crucial for app developers."
Granda expects AppLovin will be able to offset some of the impact of the IDFA change through its large audience, which it can use to leverage data for the rest of its apps.
Wall Street is optimistic regarding AppLovin's long-term growth potential. MKM Partners analyst Eric Handler said comparisons for mobile gaming growth will be challenging in the second quarter, but there is potential for strong growth in 2021 and beyond after the industry's audience widened during pandemic, with some consumers turning to gaming for the first time and others returning to the pastime.
The stock's post-IPO drop has also brought AppLovin's valuation back in line with peers, according to Bloomberg Intelligence. That is based on valuing AppLovin's consumer segment relative to mobile-game peers like Zynga Inc. and Playtika Holding Corp., while assessing its business segment relative to ad-tech peers like ironSource, analyst Matthew Kanterman said.
Todd Holman, a director at Union Square Advisors, said AppLovin's M&A strategy is also key to investors. The company recently completed its acquisition of Adjust, which makes tools to measure the performances of apps, and it bought game-maker Machine Zone Inc. last year.