Apple Skeptic Says Stock 'as Expensive as Ever' After 2019 Rally
(Bloomberg) -- Apple Inc. shares look "as expensive as ever," according to Bernstein, which questioned a recent rally in the stock and cautioned that the company remains extremely reliant on "a single mature product" in the iPhone.
Shares of the company have gained more than 40% from a January low, as of their Wednesday close, taking the company back near a $1 trillion valuation. The stock fell as much as 2% in early trading Thursday and remains about 14% below its record high.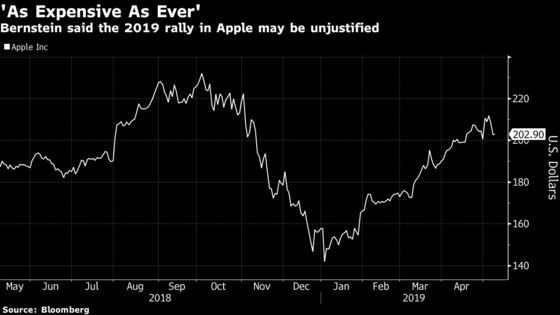 The current valuation is "equivalent to its 5-year historical high" based on the metric of forward earnings and "does not necessarily point to material upside," analyst Toni Sacconaghi wrote. Bernstein has a market-perform rating and $190 price target on Apple; the target implies 6.4% downside from Wednesday's close. The average price target of $215 implies 6% upside.
Apple sank nearly 40% between an October closing high and a low hit in early January, a sell-off heavily driven by concerns over weak iPhone demand, particularly in China. While the stock has seen some recovery, Bernstein warned that the risk hasn't passed. According to data compiled by Bloomberg, the iPhone generated more than 60% of Apple's 2018 revenue.
"Apple remains a fairly cyclical stock with over half of its revenues derived from a single mature product," and "unlike luxury handbags, jewelry, or even dish soap, the iPhone is inherently subject to replacement cycle, commoditization, and disruption risk," Bernstein said.
There may be some cause for optimism though, according to the analysts, who highlighted the "excellent job" Apple has done driving growth in average revenue per user in its services business.