Apple Sale Price Gains May Be at Risk
(Bloomberg) -- Apple Inc.'s pivot to more aggressive marketing strategies hoping to boost sales of its flagship product may have revealed a larger issue for the iPhone developer.
The push for trade-in promotions, a tactic the tech giant has not had to heavily lean on in the past, is a sign that "things may be much worse than we think," writes New Street Research's Pierre Ferragu in a note. Apple shares have declined more than 18 percent since introducing the iPhone XR in late October.
With the various upgrade programs available at the major mobile carriers -- like Sprint Corp.'s iPhone Forever program -- consumers have adopted an affinity for financing the more expensive devices. But Apple now recognizes this comes with longer refresh cycles, Ferragu said.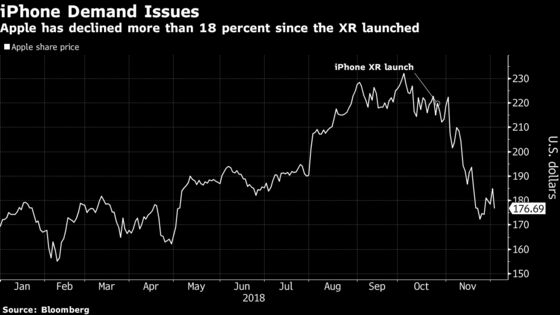 Apple has relied on increasing average selling prices (ASPs) to mute concerns about the lackluster demand for its new models, but Wall Street has started to realize it may no longer be enough to do the trick. And Ferragu believes extended iPhone lifecycles could "mean all ASP gains of recent years could be lost in unit decline in the coming years."
Recent promotions from the Cupertino, California-based company offer as much as a 13 percent discount on the XR model, which has become the best-selling device ahead of the XS and Max since debuting. New Street sees the trade-in offers as Apple fostering replacement so as not to hurt the perceived value of its new devices.