Buybacks Still On at Apple, Alphabet With Tech Giants Flush
(Bloomberg) -- Sentiment turned against share repurchases after the pandemic hit, sometimes violently so. Not at Alphabet Inc. or Apple Inc.
A day after Google's parent said it bought back $8.5 billion of its own shares in the first quarter, the iPhone maker led by Tim Cook added $50 billion to its own program. The authorizations come as politicians all the way up to President Donald Trump have expressed unease with the practice at a time of worker hardship and cash shortages at some companies.
No such shortage exist at either of the tech giants, which explains the willingness to keep spending. But the actions could leave them exposed to political lumps, says Matt Maley, equity strategist at Miller Tabak + Co.
"There are better ways for a company to use their cash, but when a company has as much as Apple has, it makes sense that they return some of it to their shareholders," Maley said. "They'll probably get some criticism, but I hope they don't get too much."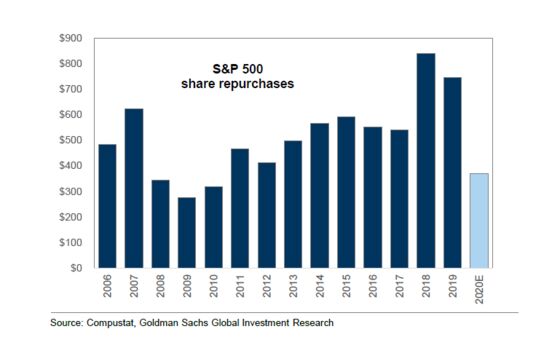 Few topics in the market get emotions running as hot as repurchases. Their impact on everything from stock prices and per-share earnings to the fabric of society are spiritedly debated, with easy answers elusive. Critics see them as financial engineering, juicing executive compensation in lieu of investments elsewhere. Others say the impact is overstated: using cash to repurchase shares is just a value-neutral exchange of assets from one pocket to another, with little ability to increase overall wealth.
Apple bumped up its program by $50 billion as it reported a 1% revenue jump in the January-to-March period. It also raised its dividend by 5 cents to 82 cents. Apple had $40.2 billion in cash equivalents in the quarter, slightly less than the same time a year ago but up from the previous quarter.
Politicians on both sides of the aisle have come out against buybacks in recent weeks as companies scrambled to conserve cash while laying off workers. About a quarter of last year's total has already been pulled by S&P 500 companies, according to Goldman Sachs, and the bank expects S&P repurchases will decline by 50% this year.
Although the technology sector is not a main recipient of relief funding, some firms have suspended or reduced their spending on stock buybacks including Intel Corp., Teradyne Inc. and Manhattan Associates Inc., according to data compiled by Bloomberg.
"Apple is an outlier to be upping its buyback. It shows the massive power of the franchise and balance sheet," said David Katz, president and CIO of Matrix Asset Advisors. "Buybacks have a place in the capital markets for companies with tremendous excess cash with a stock at reasonable valuations, buybacks make enormous sense."
An Apple spokesman did not immediately return emails seeking comment. Chief Financial Officer Luca Maestri noted during the company's conference call that the increase is just an authorization level. He said the run rate of buybacks has been very "adequate."
Alphabet's $8.5 billion of first-quarter buying was the most of any quarter in the company's history and quadruple its spending on buybacks at the start of 2019, despite clamping down on other spending such as marketing and hiring.
"We believe a share repurchase program for us, appropriately sized, is responsible in the current environment based on our capital allocation framework and our cash balance," Alphabet's Chief Financial Officer Ruth Porat said on Tuesday's conference call. "In the beginning of the year, I indicated that we expected to repurchase shares at a pace at least consistent with the fourth quarter on the remaining authorization, and that remains our view for the second quarter."