Apple Bulls Are a Minority for the First Time in the iPhone Era
(Bloomberg) -- For the first time since before the advent of the iconic iPhone, the consensus view on Wall Street is for investors to avoid buying shares of Apple Inc.
The downgrades mean that just 23 analysts currently have a buy rating on the stock, accounting for 48 percent of the ratings, the lowest percentage since 2004 and down from 36 analysts at the start of 2018. There are also a record 23 firms that rate the stock as a hold, a group that has nearly tripled its membership since the start of 2018. Jefferies, Macquarie and Loop Capital were among the firms downgrading the stock in the wake of the outlook.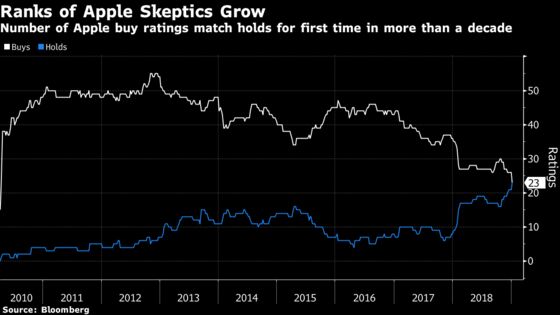 While the number of Apple skeptics is growing, the number of outright bears remains low, as just two firms have a sell rating on the stock.
Shares of Apple fell as much as 10 percent on Thursday, their biggest one-day drop since January 2013. At current levels, the stock is trading at its lowest since July 2017, and it is down nearly 40 percent from a record hit in October.
At least one analyst is bucking Thursday's trend in the wake of the share-price collapse. New Street Research upgraded its view to neutral from sell on Thursday, writing that while it doesn't recommend buying the stock yet, "we don't see reasons for Apple to underperform further this year."