Tech Stocks Are Down, But Don't Overlook the FANG Put
(Bloomberg Opinion) -- Call it the FANG Put.
Last month, during the teeth of the stock market sell-off on Wall Street, investors fed $1.2 billion into the ProShares Ultrapro QQQ exchange-traded fund, a three-times-leveraged ETF that goes up like a rocket ship when tech stocks rise but also sinks like a stone when they fall. That latter part, when tech stocks were already plummeting, didn't seem to faze investors. In the grand scheme of things, it was not a lot of money — the market overall is worth more than $25 trillion — though it was a lot for that ETF, which now has nearly $4.4 billion.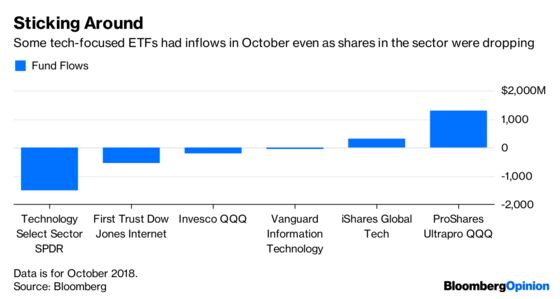 But it did show that even in a turbulent market investors were willing to bet that the big tech stocks would continue to rise. The biggest holdings of the fund are Apple Inc., Amazon.com Inc., Microsoft Corp., Google parent Alphabet Inc. and Facebook Inc. Yes, the prices of the stocks were down, some sharply, but they were still way up from where they were two years ago.
For a long time stock traders used to talk about the Bernanke Put. That was a belief that if stocks fell Ben Bernanke, who was the chairman of the Federal Reserve after the financial crisis, would somehow cut interest rates to save the market. The Bernanke Put is gone for two reasons. Most obviously, Bernanke and his successor, Janet Yellen, have left the Fed. Second, the current Fed board under Jerome Powell seems intent on continuing to raise rates. A better-than-expected jobs report on Friday and the 3.1 percent annual increase in wages will give the Fed more reason to stick to its plan.
These days, though, the FANG Put shows that some investors, most likely individuals, seem to be willing to swoop in and buy tech stocks even after relatively small distances from their all-time highs.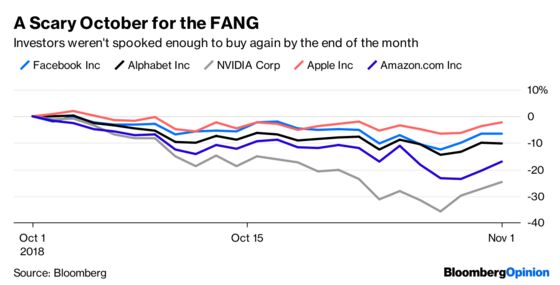 Clearly not everyone has stuck with the big tech stocks. Facebook, even after a recent rebound, is still down 30 percent from its high. Another highflying tech company, chipmaker Nvidia Corp., was down nearly 30 percent in October as well. On average the FANG stocks, which typically include Netflix Inc. as well, fell as much as 10 percent in October. A survey of institutional investors by Bank of America released last week showed that hedge funds had cut their exposure to technology stocks to just 15 percent of their portfolios from an average of 25 percent just two months ago.
But the ETFs that track tech stocks showed surprisingly small outflows during October. Investors pulled just $54 million from the Vanguard Information Technology ETF. The Invesco QQQ ETF, which tracks the tech-heavy Nasdaq Index, had outflows of just more than $200 million, but that was far less than the more than $800 million that flowed out of the fund in June. Even the $1.5 billion that was pulled from the popular Technology Select Sector SPDR ETF was still surprisingly small given the drop in the stocks and the $20 billion size of the fund. 
The bull market has been going on for a while and there do seem to be signs of investor fatigue. But every time the stock market has fallen apart this year, particularly in February and just recently, investors have emerged to buy, and not just the types of stocks that seem the safest. It's no guarantee that stocks will rebound broadly, but it is a pretty good sign.
This column does not necessarily reflect the opinion of the editorial board or Bloomberg LP and its owners.
Stephen Gandel is a Bloomberg Opinion columnist covering banking and equity markets. He was previously a deputy digital editor for Fortune and an economics blogger at Time. He has also covered finance and the housing market.