Apple and Alphabet Herald Return of Buyback Boom as Cash Swells
(Bloomberg) -- Buybacks are coming back with a vengeance.
A pair of pledges to repurchase shares this week by two megacap technology companies is fueling hopes that more corporations will embrace the practice again, a development which could lend further support to U.S. stocks trading at record highs.
Google parent Alphabet Inc. on Tuesday said it was earmarking as much as $50 billion to repurchase shares. Not to be outdone, Apple Inc. pledged a day later to spend as much as $90 billion. Both represent significant increases from prior authorizations and could signal that corporations are ready to return some of their swelling cash piles to shareholders after cutting back sharply during the Covid-19 crisis.
Share-repurchases have been slowly picking up since bottoming in the three months that ended in June 2020. Buybacks rose 28% to $120 billion quarter-over-quarter in the last three months of 2020, still a far cry from the $197.7 billion in repurchases in the first three months of the year. The increasing activity comes as cash on the balance sheets of companies in the S&P 500 is at a record of $2.7 trillion, according to data compiled by Bloomberg Intelligence.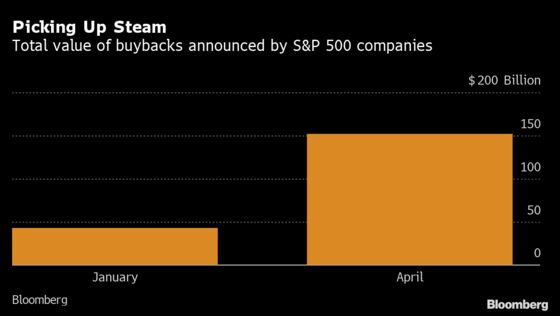 For perspective on the magnitude of the buybacks announced by the tech giants, consider that Alphabet's $50 billion pledge alone is more than all of the repurchase authorizations by S&P 500 companies at the same juncture in the last earnings season. Apple's $90 billion planned repurchase is bigger than the market valuations of more than 80% of the companies in the S&P 500 Index, including General Motors Co.
While it's too early for definitive data about first-quarter repurchase activity, at least nine companies in the S&P 500 have announced buybacks since earnings season began earlier this month.