Here's What Short Sellers Presented at the Tilson Conference
(Bloomberg) -- Aphria Inc. and Ebix Inc. were among stocks that fell after new short calls were presented at the Whitney Tilson's Kase Learning Shorting Conference in New York today. Here's a list of the biggest movers from the event:
Aphria - Quintessential Capital

One of Canada's biggest pot sellers, Aphria Inc., was pitched as a short idea by Quintessential Capital's Gabriel Grego at the conference. The stock plunged as much as 29 percent. Grego said he is cautious on the company's recent acquisitions in Latin America. He also expects a "massive" asset write-off that will impact the share price. An Aphria spokesperson called the allegations "false and defamatory" in an emailed statement and said the company is pursuing legal options and preparing a comprehensive response for shareholders.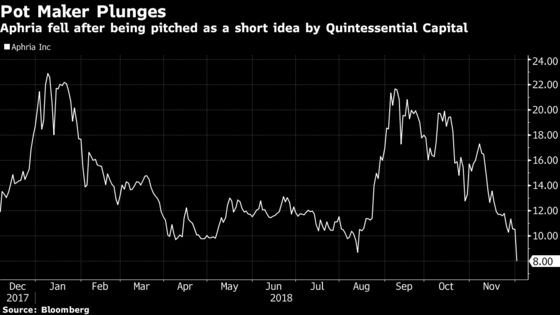 Tilray - Aristides Capital
Another cannabis-based company, Tilray Inc., was pitched as a short idea by Aristides Capital's Chris Brown. He called growing marijuana a commodity business, and says Tilray is overvalued. Brown sees the firm base case going to $60 at a time of "lock up" and moving lower from there. Tilray shares fell more than 3 percent before climbing as much as 6.7 percent later in the day after the Financial Times reported that Altria has held talks with Tilray and Aphria. Shares closed up less than 1 percent.
CarGurus - Kerrisdale Capital
CarGurus Inc. fell 1.5 percent after being pitched as a short idea by Kerrisdale Capital's Sahm Adrangi. He said the company has a "commoditized" product offering, competing with bigger competitors such as Cars.com, AutoTrader.com and TrueCar. Adrangi is expecting the growth to plateau and decelerate quickly over the next few years, as the industry in general is experiencing a slowdown and customers are becoming more expensive to acquire. CarGurus is trading at a significant premium to peers, he said.
Ebix Inc. closed up less than 1 percent after falling as much as 6 percent when Viceroy Research founder Fraser Perring pitched the stock as a short idea. He questioned the firm's accounting and subsidiary structure and said a full short report will be issued later this week. In response, David Collins, investor relations representative at Ebix, told Bloomberg News that the firm "can't comment on their presentation and comments, but we can direct people to other reports by the analysts who have followed us for years and provide a public overview of their view of the facts." Later, Bodenholm Capital's Mads Thamsborg also pitched Ebix as a short, saying he believes business is "deteriorating" and sees decelerating revenue "quality."
Signet Jewelers Ltd. ended the day up less than 1 percent after being pitched as a short idea by Gracian's Matthew Kliber. Kliber said he was dissatisfied with the company's restructuring program, calling inventory clearance sales at the retailer "odd."
Axon Enterprise - Anson Fund
Axon Enterprise Inc. shares gained 3.9 percent after being pitched as a short by Anson Fund's Sunny Puri. He sees an inflection point in the number of tasers sold, saying it's likely to begin coming down. Puri added that the value of the body camera market is not as robust as the stock indicates. He predicts a 40 percent to 50 percent downside for the firm. Shares are up 3.9 percent.
Cracker Barrel - Pinnacle View
Cracker Barrel Old Country Store Inc. dropped less than 1 percent after being pitched as short by Pinnacle View's Victoria Hart. She said customers are switching to other chains, and maintains that the firm is losing share to casual restaurants and isn't connecting well with millennials. Shares pared most of the losses.
PulteGroup - Pinnacle View
PulteGroup Inc. gained 1.1 percent after being pitched as short by Pinnacle View's Victoria Hart.
KB Home gained less than 1 percent following short call from Pinnacle View's Victoria Hart.
Arcadis - ShadowFall Capital
Arcadis pitched as a short by ShadowFall Capital's Matthew Earl.
Weis Markets - Spruce Point Capital
Weis Markets Inc. had its short call reiterated by Spruce Point Capital Management's Ben Axler. He maintains that the price premium at Weis Markets can't be sustained and sees competitors including Aldi gaining share. Axler sees a downside to $25 to $36 a share. The call came as the market closed.
Michaels - Cruiser Capital
Michaels Cos. Inc. was pitched as short by Cruiser Capital's Keith Rosenbloom. He predicts margins for the company's framing business will decline due to online competition. The framing business makes up 15 percent of revenue and 33 percent of the net income, Rosenbloom said. Blackstone and Bain, the biggest owners of shares, have been trimming their respective positions, he said.
Momo Inc. was named as a short call by J. Capital's Anne Stevenson-Yang. She writes that the business is seeing "little traction" from advertisers, and sees about a 40 percent downside.