Another Turkish Inflation Shocker Could Trip Up Lira Bulls
(Bloomberg) -- The nascent rally in Turkish markets may face a stumbling block next week if accelerating inflation drives the central bank's policy rate deeper into negative territory in real terms.
While consumer prices probably steadied in October, according the median estimate in a Bloomberg survey, bond traders are nervous before the release on Monday, sending long-end benchmark yields higher for the first week in four. A reading anywhere near the top-end of forecasts would push Turkey's one-week rate adjusted for inflation from just below zero currently, to the lowest level in at least four years.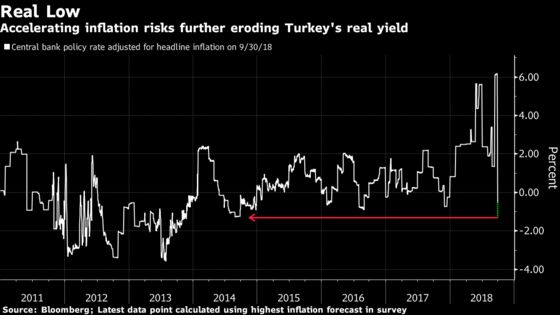 That's not exactly the type of cover emerging-market investors who are grappling with Federal Reserve policy tightening are looking for in Turkey, where central-bank Governor Murat Cetinkaya warned inflation would remain volatile in the short term. Policy makers left the key rate unchanged at their last meeting, even as inflation unexpectedly surged to a 15-year high in September.
Any further deterioration could be "quite detrimental" to the lira, said Anders Faergemann, a senior money manager at PineBridge Investments in London, which oversees $87 billion of assets, and maintains a negative view on the currency. "The Turkish lira has reached an inflection point in terms of its short-term valuation and could be vulnerable to a setback."
The currency has recouped almost a third of its value from a record low in August, touching an almost three-month high this week. The central bank jacked up rates to 24 percent in September, and a long-running diplomatic dispute with the U.S. that had weighed heavily on sentiment ended with release of a detained American pastor last month.
The economy is also slowing fast, driving Turkey's current-account balance back toward a surplus, which means -- at least on paper -- that inflation should also start slowing. The central bank has penciled in a rate of 23.5 percent for consumer prices by year-end, according to central bank's quarterly report, and 15.2 percent for 2019.
Still, with producer prices running at an annual rate of 46 percent -- the highest since the fallout of the lira's collapse following a domestic financial crisis in 2001 -- and almost double the rate of consumer prices, there's a real risk of a pass-through. Longer-term expectations are also broken, with the 12-month forecast in the central bank's latest survey climbing above 17 percent, posing a risk to pricing behavior.
"The September print was truly dreadful," Timothy Ash, a strategist at BlueBay Asset Management in London, wrote in a note to clients. Data on Monday "could determine whether the current positive market spin around Turkey can be sustained," he said.