Brussels Edition: Brexit Cliff, Japan's Fate
(Bloomberg) -- Welcome to the Brussels Edition, Bloomberg's daily briefing on what matters most in the heart of the European Union.
You could have been forgiven for hoping that Boris Johnson's election win would finally put an end to the hard-Brexit horror show. It turns out that the optimism of EU diplomats and currency traders was premature. The car-crash may have just been delayed until the end of the transition period, which Johnson appears determined not to extend beyond 2020. Officials in Germany and Brussels say that striking a deal on future relations between the two sides in the space of a few months may be unrealistically ambitious. And unlike 2019, there won't be an emergency brake in the House of Commons to stop the Tories from "getting Brexit done" at all costs.
Going Green | Singling out the systemic risk posed by climate change, the Commission said going green could help the euro area avoid the kind of low-growth, low-inflation trap that befell Japan. EU lawmakers will today debate last week's summit, including the decision to transition to climate neutrality, with Commission President Ursula von der Leyen and Council President Charles Michel. 
Long Wait | In other discrimination news: are you a woman wondering how long you'll wait for the same economic opportunities as your male counterparts? The answer could be more than two and half centuries, according to the World Economic Forum.
Vivendi Opinion | A non-binding opinion from the EU's top court today will give the first hint about Vivendi's chances in an Italian court fight over its right to keep a 29% stake in Silvio Berlusconi's Mediaset. The Luxembourg-based tribunal is weighing the validity of an Italian law that stops the company holding large stakes in both Mediaset and Telecom Italia.
Orban's Billions | Hungary's decade-long rule by Viktor Orban has helped create the first dollar billionaire in the leader's entourage. Here's how former pipe fitter Lorinc Meszaros, a childhood friend of the prime minister, built most of his sprawling corporate empire in just five years of dizzying wealth accumulation.
Pipeline Politics | The U.S. has little leverage to prevent the Nord Stream 2 gas pipeline project between Russia and Germany from being completed, two senior administration officials said, acknowledging the failure of a years-long effort to head off what officials believe is a threat to European security. Sanctions passed Tuesday as part of a U.S. defense bill are too late to have any effect.
Aging Warning | Finland's government needs to push through reforms that deal with the country's aging population or risk placing its public finances in danger, the central bank warned. Much of Europe faces the same issue, but for Finland it's even more important because of a generous welfare state, relatively low immigration and the constraints of euro membership.
3D Print | A plant being built in Germany will make a material that could become the gold standard for industrial-scale 3D printing. The project offers a lifeline for the local economy and could serve as a case study on applying Germany's old-school engineering to a new era. But there's also a risk that the technology upends the traditional manufacturing that underpins German affluence.
NATO Tensions | Turkey says its purchase of Russian weapons doesn't weaken its role as a NATO member. But that's not how some of its peers see it, especially as it's set to sign an agreement with Moscow to jointly produce missiles and receive know-how to develop its own battlefield systems. 
Shipbuilding Probe | Hyundai faces an extended EU probe into its plan to take control of Daewoo amid concerns the deal will knock out a major rival for cargo, oil tankers and gas carriers. The Commission set a May 7 deadline to rule on the tie-up as it warned that it could reduce competition and lead to higher prices, less choice and reduced incentives to innovate.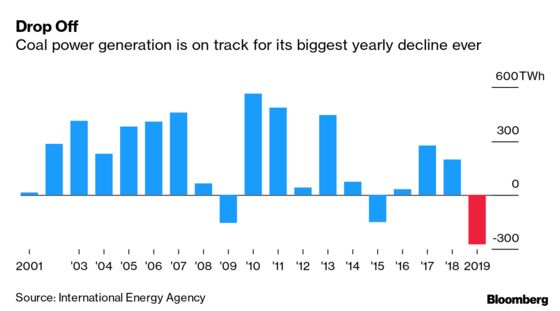 Coal consumption is set to rise in the coming years as growing demand for electricity in developing countries outpaces a shift to cleaner sources in industrialized nations. While use of the most polluting fossil fuel had a historic dip in 2019, the International Energy Agency anticipates steady increases in the next five years, setting up a significant challenge to meet emissions goals.
9:30 a.m. The EU's top court will give a non-binding opinion in a dispute between Mediaset and Vivendi
9:30 a.m. ECB President Christine Lagarde speaks in Frankfurt
10:10 a.m. Council President Michel and Commission President von der Leyen brief EU lawmakers in Strasbourg on last week's summit
11 a.m. Eurostat to release final inflation reading for November; also data on migrant integration
MEPs set to condemn public discrimination and hate speech that LGBTI people face in Poland, discuss situation of the Uighur in China, and vote on a resolution on the rule of law in Malta
Romania's government may start another fast-track approval procedure in parliament to cancel the controversial greed tax