Cuomo Gets Vaccine as Black Leaders Praise Embattled Governor
(Bloomberg) -- Andrew Cuomo got his Covid-19 vaccination on Wednesday in Harlem, New York, surrounded by Black leaders who heaped praise on the embattled governor.
He received the Johnson & Johnson vaccine at the Mount Neboh Baptist Church pop-up site, flanked by more than a dozen Black leaders, including former U.S. Representative Charles Rangel; state Assemblymember Inez Dickens, Hazel Dukes, the president of the NAACP New York conference; and Marc Morial, president of the National Urban League; who thanked Cuomo for getting the vaccine to their communities.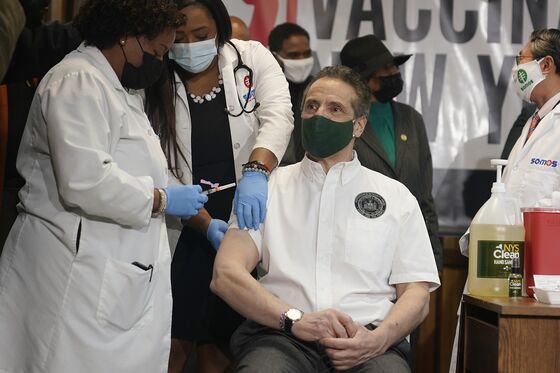 "We are standing with the governor," said Dukes, whom Cuomo referred to as his "second mother."
Cuomo, facing growing calls for his resignation by members of his own party and a legislative impeachment investigation over accusations of sexual harassment, has held briefings in recent days focused on inequality in vaccine distribution. At most of the events, which are closed to the press, he has been joined by Black church leaders and lawmakers who have expressed support for the third-term Democrat.
"He held out for four months, waiting until it was fully available to Black and brown communities," Dickens said of Cuomo. "Thank you governor."
Rangel also expressed gratitude to Cuomo for "all that you've done for us."
"When people start piling up on you and you're trying to figure out, is this the same country that says that you can make any allegation that you want to make, but due process and a hearing is basically what we believe in in this country, than you would hope that anyone of us, and when I say any one of us I mean it," Rangel said. "I don't care whether you're clergy, politician, a business person, you go to your family and you go to your friends because you know that they are going to be with you."
Cuomo, 63, has said he would wait to get his shot until it was available to members of the Black community in his age group.
"I want to make the point, take whatever vaccine you can take," said Cuomo, "They all work. They're all safe."
The governor noted that in New York City, Black people make up 27% of the population but have received just 19% of the vaccines allocated. The state is setting up pop-up sites in public housing projects and at churches and community centers to make it easier for people in hard-hit areas to get their vaccines.
"What we're doing today and in the next two days could be considered an act of social justice," said Dr. Johnnie Melvin Green Jr., senior pastor of the Mount Neboh church.
"I personally want to appreciatively applaud the governor for coming here today to get his vaccine," Green said. "The vaccine is safe. It's safe enough for the governor. It's safe enough for me. I've taken both the Pfizer shots."
Dukes, who received birthday wishes and a cake from Cuomo at the briefing, said she has known him since she was 12 and showed a picture of her sitting next to his father, the late former Governor Mario Cuomo, "giving his daddy directions."
"I'm proud of all your leadership on Covid and the great things you've done for our state," Dukes said.