Analysts Can't Explain Why Liberty TripAdvisor Shares Jumped 944% 
(Bloomberg) -- Liberty TripAdvisor Holdings Inc.'s crazy week left analysts scratching their heads about what might have caused the stock to surge as much as 2,700% in one session.
The series B shares soared on unusually high volume, and Wednesday's move was so inexplicable that the company issued a statement indicating it was "not aware of the reasons for the recent volatility in its stock price." The stock pared gains on Friday, trimming its weekly advance to 944%, still by far the biggest move in the company's five-and-a-half year trading history.
"I don't see any fundamental grounds for this sort of move," said James Ratcliffe, managing director for communications services equity research at Evercore ISI.
It's worth noting that on April 14, Liberty TripAdvisor received a notice from the Nasdaq Stock Market indicating that the market value of its series B shares for the past 30 days had fallen below the $1 million threshold for continued listing. The company was given 180 days to regain compliance, according to a filing. Liberty TripAdvisor did not respond immediately to a request for comment.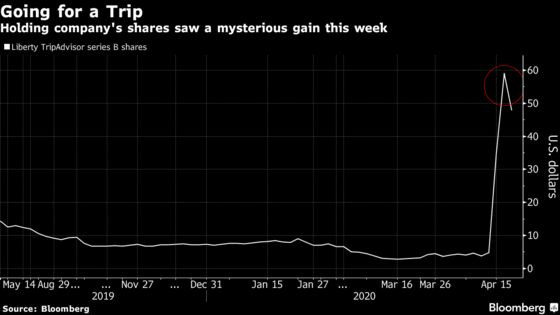 The main function of the holding company is to hold onto shares of TripAdvisor Inc. Both are part of the vast Liberty Media Corp. empire, whose other holdings include Sirius XM Holdings Inc. and the Atlanta Braves baseball team.
Ratcliffe said it was unclear who exactly had bought the shares, or why, though he saw it mentioned on Twitter and Reddit communities dedicated to penny stocks. It's possible that a slight move in the share price caught the attention of those traders and persuaded others to pile in, ratcheting up the price, Ratcliffe said.
"Stuck at home retail investors are so bored that the gamblers are back at the stock market casino," said Joe Spiegel, hedge fund manager at Dalek Capital.
Most of the 2.95 million series B shares are owned by Gregory Maffei, Liberty Media's chief executive officer. The number of shares available for investors to trade is incredibly small -- only 144,220, according to data compiled by Bloomberg. That means any increase in trading would have a substantial impact.
"Given that it is a very small float and very thinly traded, and not particularly well understood, it doesn't take a lot of investors or frankly a lot of dollars to move it dramatically," Ratcliffe said.
Another potential explanation for the meteoric rise, offered by FBN Securities analyst Robert Routh, is that a buyer was interested in picking up the vote-heavy series B shares ahead of the company's annual investors meeting on May 19. Each of those shares carries 10 votes compared to a single vote for each series A share. (Notably, those series A shares saw little of the dramatic movement of their counterparts.)
"We are all still scratching our heads," Routh said in an email.