Amundi Offers Wine and Cheese Fund as Investors Crave Niche Bets
Amundi SA is serving up an unusual solution for its yield-hungry investors.
Europe's largest asset manager is seeking to raise as much as 200 million euros ($231 million) for a fund that invests in wine, cheese and cured ham producers, according to an investor document seen by Bloomberg. The fund is a larger successor of an earlier version which provided financing to small Italian food-makers that local banks deemed too risky to lend to.
It's the latest example of investors diving into obscure parts of financial markets in a bid to boost their increasingly elusive gains. Low interest rates and shrinking bond yields have depressed returns in recent years, driving up interest in alternative assets such as private credit, infrastructure and, now, Parmigiano Reggiano and parma ham.
Paris-based Amundi is betting on the continued strength of a 6.4 billion euro market for specialty Italian food and wine products. The industry has endured difficulties in recent years as the pandemic forced restaurants and hotels to shut, and Brexit has also added complications for producers looking to export product from Europe to the U.K.
While the fund will deploy most of its capital in Italy, it has scope to back food and drink producers in famed wine-making countries such as France and Spain, the document shows. It will target net returns of between 5% and 5.5%.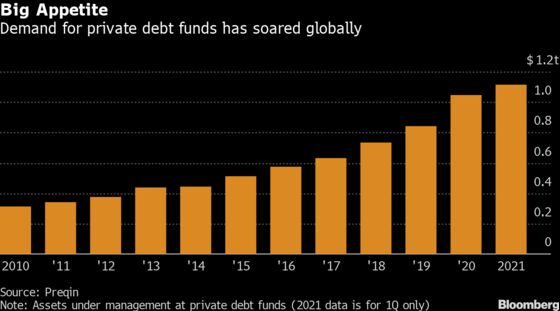 Asset managers have increasingly stepped in to provide lending to small, riskier companies over the past decade. Banks have pulled back from such deals in the face of greater regulatory scrutiny in the aftermath of the global financial crisis, leading to significant growth in private debt markets in Europe and the U.S. Amundi has raised and invested almost 8 billion euros of private debt funds since launching the strategy in 2012, according to its website.
Backers of the asset manager's new fund will have added security if any of the loans go sour. The cheese, ham and wine that the producers make -- all of which appreciate in value as they age -- will be used as collateral against the loans, the document shows.
"Inventories are expected to be iconic products of the Italian food industry and as such could be divested on the open market in an adverse scenario," the document states.