AMLO Taps His Spending Chief to Head Banxico as Inflation Soars
(Bloomberg) -- The Mexican peso tumbled Wednesday after President Andres Manuel Lopez Obrador picked a Finance Ministry official with little monetary policy experience to lead the country's central bank, fueling concern about possible government interference in Banxico's independence as inflation hits a 20-year high. 
Lopez Obrador nominated Deputy Finance Minister Victoria Rodriguez Ceja to be the first woman to lead Banxico, as the central bank is known, after retracting his June decision to pick former Finance Minister Arturo Herrera for the job. Rodriguez has been Mexico's spending chief since the president took power in late 2018. Before that, she held several positions related to debt, finances and spending but without any significant grounding in monetary policy.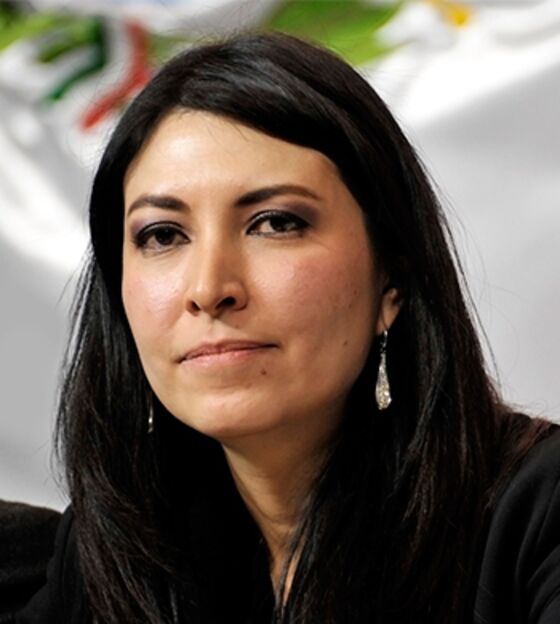 The peso sank after the Wednesday announcement, falling as much as 1.8% before paring some of the losses. Ten-year, peso-denominated bonds dropped below 100 cents on the peso for the first time since March 2020, with yields nearing 7.8%.
"Although early to pass judgment, the risk here is that the new nominee is either not sufficiently independent from the government, or not sufficiently experienced for what is ultimately a highly technical job, or both," said Alberto Ramos, the chief Latin America economist at Goldman Sachs Group Inc. "The uncertainty created by this development is also highly inopportune given that the central bank is struggling to get a grip on inflation."
In her first public comments since the nomination, Rodriguez said she is committed to defend the central bank's charter. 
"My commitment is to combat inflation, not to touch the international reserves and fulfill Bank of Mexico's autonomy," she said in a video posted on Twitter, flanked by Finance Minister Rogelio Ramirez de la O.
The peso rose 0.1% to 21.4049 per dollar in early Asian trading on Thursday.
Rodriguez holds a master's degree in Economics by Mexico's Colmex and spent most of her professional career in public finance jobs, including debt director of the Mexico City government and financial director of the city's transport system.
AMLO, as the president is known, denied in a press briefing that Rodriguez's nomination would be an attempt from his part to interfere with the policies of the central bank and vowed to continue respecting its independence. He had said earlier this year that Banxico should be led by an economist "with a social dimension" who is in favor of "a moral economy."
The president had announced in June that Herrera would take over the central bank in 2022, but the executive branch then quietly withdrew the nomination in August. Herrera said in a tweet Tuesday that AMLO informed him of his decision to reconsider his nomination a week ago.
"We want women to participate, that this change be carried out recognizing the work that the Deputy Minister has done," Lopez Obrador said about the nomination, declining to specify why he changed his mind. "She has acted with much responsibility not to spend for the sake of spending. It is thanks to her that we have financial stability, that no additional debt has been resorted to."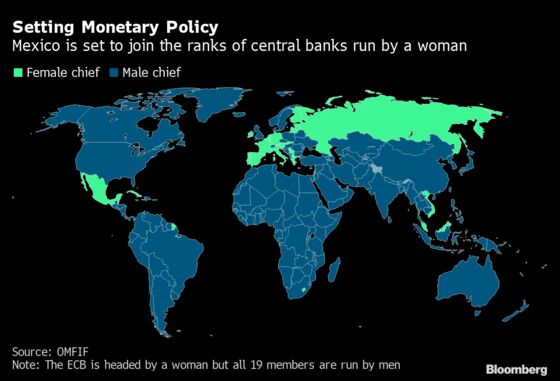 The unexpected U-turn and surprise nomination comes at a complicated time for Banxico, which has been seen as the rock of Mexico's macroeconomic stability for the past three decades. The bank has been steadily boosting interest rates since June only to see inflation expectations further deteriorating. 
Consumer prices rose 7.05%, the fastest in twenty years, during the first half of November from a year prior, the national statistics bureau reported earlier on Wednesday, more than all forecasts in a Bloomberg survey that had a 6.86% median estimate. Inflation is still in a "clear upward trajectory" Deputy Governor Jonathan Heath said, adding that the trend is "concerning."
Rodriguez's nomination will be sent this week to the senate for its ratification. The government and its allies control the chamber and they agreed to process it quickly "to avoid any anxiety, uncertainty or nervousness in the economy and international markets," according to majority leader Ricardo Monreal.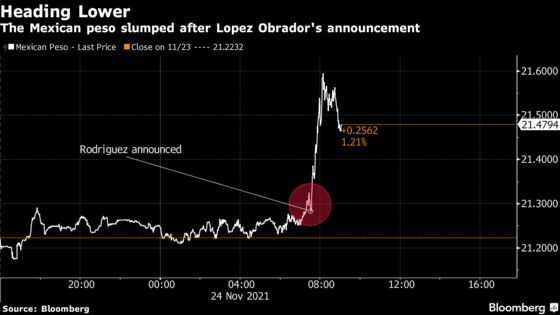 Read More: Mexico Inflation Hits 20-Year High Amid Banxico Uncertainty
Herrera, who was a loyal operator during his two years running the Finance Ministry under Lopez Obrador, was expected to take over Banxico when current Governor Alejandro Diaz de Leon's term finishes at the end of this year. He was seen as a potentially dovish voice in a bank that has been cautiously hawkish as the economy slowly recovers from the effects of the worst months of the Covid-19 pandemic.
"It generates a lot of noise as Herrera was a given, and he's quite well known among foreigners and locals because in the finance ministry he had a lot of contact with investors," Claudia Ceja, a strategist at BBVA in Mexico City, said about AMLO's decision. "Rodriguez Ceja hasn't had this type of contact and has a bit more of an academic profile."