AMLO Pushes Banxico to Boost Growth at Event With Bank Chief
(Bloomberg) -- Mexico's president said he'd like the central bank to help boost growth during an event with his new pick to lead Banxico, just as an economic recovery falters amid tighter monetary policy.
"One job of the bank is to control inflation and the other, which we would like very much to see, but we are only giving an opinion, is that it also helps to boost growth," President Andres Manuel Lopez Obrador, known as AMLO, said at his daily news conference on Thursday. "Inflation can be controlled but if there isn't growth we don't make progress."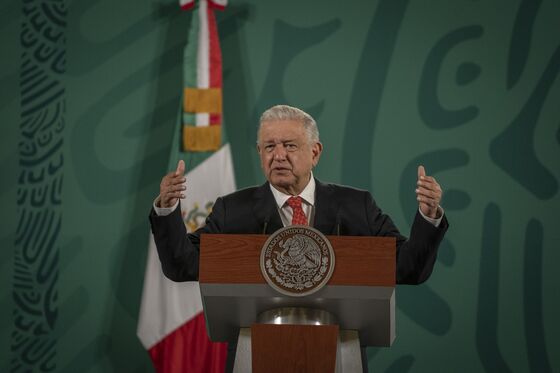 Lopez Obrador's nomination of his little-known spending chief Victoria Rodriguez Ceja to lead Banxico has raised questions about whether he'd try and erode the bank's coveted autonomy. Mexico's central bank has a single mandate of controlling inflation.
The Mexican peso erased almost all of the day's gains after AMLO's comment, falling to 20.57 to the dollar, before strengthening again. 
His comments "definitely don't help to calm the nerves that are around with respect to the central bank's autonomy," said Janneth Quiroz Zamora, an economist at Monex Casa de Bolsa, adding that she'll wait until the bank's first board meeting in February to judge whether Rodriguez is aligned with the institution's priorities.
But during the same event, Rodriguez Ceja pledged her commitment to sticking to Banxico's inflation-targeting mandate, and AMLO reiterated that he recognized the monetary authority's autonomy to decide on interest rates and that "we will always respect its decisions." Rodriguez takes over the bank on Jan. 1.
Rodriguez was plucked from anonymity and put forward for the Banxico job in a surprise U-turn in November, after former Finance Minister Arturo Herrera had already been nominated for the role. Lopez Obrador had previously said he wanted a candidate focused on the "moral economy." 
Any move to explicitly target growth could distract from grappling with inflation, but AMLO and Rodriguez's commitments to the bank's independence are "somewhat reassuring," said Julio Ruiz, an economist at Itau BBA in Mexico City. "Something that AMLO has tried to avoid since the beginning of his administration is messing with Banxico's autonomy directly."
Banxico unexpectedly accelerated the pace of monetary tightening earlier this month, delivering a 50 basis-point hike to its key interest rate to fight inflation.