AMLO's Party Rocked by Rape Allegations Against Candidate
(Bloomberg) -- Mexican President Andres Manuel Lopez Obrador's party, which in 2018 promised a new beginning for a country beset by corruption and violence, is under attack for backing a candidate who has twice been accused of rape.
Felix Salgado Macedonio's candidacy for the June 6 governor's race in Guerrero state has sparked outrage among female members of the ruling Morena party. They say it's immoral if Salgado remains on the ballot in a country where unremitting violence against women has spurred massive protests and a nationwide strike last year.
As the president's party is mired in inconclusive debate over whether to drop Salgado, who has denied the accusations, the president has insisted voters should have their say. Critics say AMLO's refusal to end the run of his fervent supporter is a sign of the cronyism he promised to eliminate, and a cynical bid to preserve power that Morena gained after a nationwide sweep in the 2018 election. The president insists he has always sought an end to violence against Mexican women, and his supporters say the democratic process must play out.
The accusations against Salgado, a former senator and mayor of Acapulco, are grave. One woman said he assaulted her in his opulent home in 1998, when she was a 17-year-old interested in politics. Another said that in 2016 he drugged her before raping her and beating her with a belt, when she was an employee at the newspaper he directed. She said Salgado said he had taken photos of her, and that he would use them if she didn't keep quiet. The Guerrero attorney general's office said it is reviewing the more recent case.
On Tuesday, Basilia Castaneda Maciel, the woman in the 1998 case, posted an online video saying that she had sought international protection for herself and her family.
"With all their false statements, the leaders of Morena are promoting an environment of hate," she said. "I'm asking the authorities, the party leaders and society in general to ensure that women like me, who report what's happened to us and ask for justice, can safely be heard."
In late February, more than 500 Morena politicians and supporters demanded in a letter that Salgado be removed.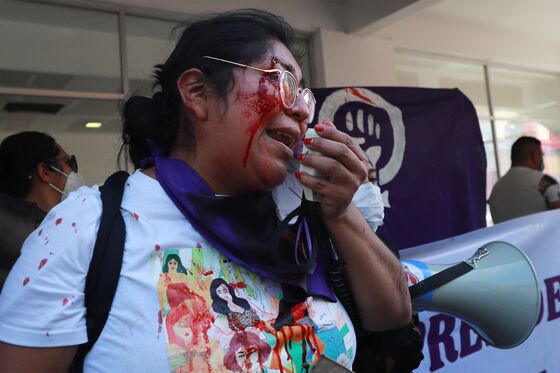 The rebellion is an anomaly in a political culture where presidents wield great power over the choice of candidates, and AMLO retains a position of strength: A poll published Tuesday by the newspaper El Universal showed the president with a 64% approval rating. Last week, he said he wouldn't want a comma changed in a controversial electricity bill in the lower legislative house. Not a comma changed.
AMLO, who meets with reporters for hours every morning, has declined to comment on the accusations against Salgado, and has said party officials should listen to voters. On Wednesday, the president said that critics are smearing him.
"They're saying that we're against women, can you imagine that?" he said. "They want to typecast us, label us, as against the feminist movement, which isn't true. It's slander."
Morena commissions have failed to reach a definitive position. This weekend, its Justice and Honesty Commission said the process to pick a candidate needs to be redone, and the party's National Election Commission would have to decide. The latter agreed to hold a new survey to help it decide on its candidate. Despite the attorney general's case -- and Castaneda's personal appearance -- Justice commission members said the evidence against Salgado consists only of "various journalistic articles."
"It's an unfortunate case. I hope to never have to hear a case like it again," said Zazil Carreras, a member of the Justice and Honesty Commission, who favored disqualifying Salgado from the election but was outvoted.
Dissenters in the party said the commission shirked its duty.
"The party can't be neglectful and say, we're going to put forward x, y, z candidates, but we're not responsible for their life's path or what they've done in their past," said Wendy Briceno Zuloaga, head of the lower house's committee on gender equality, who signed the letter. "We can't just put someone on the ballot because of a question of whether they're likely to win."
An El Financiero poll on Monday showed that 62% of Mexicans surveyed are opposed to Salgado's candidacy, but he retains a strong base of support in Guerrero, a poor state on the Pacific coast afflicted with drug violence.
Salgado, a motorcycle aficionado, has cast himself as an unconventional politician from the start of his career. He told the newspaper La Jornada that unlike other party members, he didn't believe that the movement would grow by being "well behaved."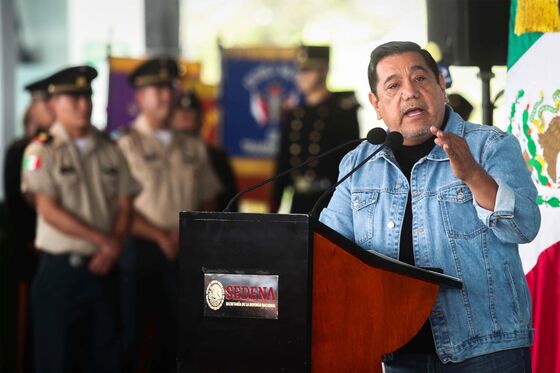 He built his reputation on being, like Lopez Obrador, a man of the people from a humble background, and then climbed through the ranks as a mayor, member of the lower legislative house and a senator. During his three decades in politics, he has marched to the nation's capital to protest electoral fraud and celebrated the unseating of the country's old-guard politicians. When he was a congressman, he starred in a movie called "Guerrero," clad in one of his characteristic leather jackets.
Salgado has said in the past that he's guilty of being a womanizer and a drunk. But he has firmly denied the rape allegations. His lawyer Jose Luis Gallegos Peralta told the newspaper Milenio that the case against him is "full of contradictions."
The lawyer's office didn't respond to requests for comment.
Francisco Abundis, who runs polling company Parametria, said that Salgado has about 40% voter approval in Guerrero, a strong number in a multiparty democracy.
"His whole life has been a scandal," Abundis said of Salgado. "Nothing surprises the people of Guerrero anymore."
If Salgado remains on the ticket, he would be up against a candidate jointly supported by Mexico's once-all-powerful PRI party and Salgado's own former party, the left-leaning PRD.
"He's the favorite of the favorites. Our only hope is they don't give him the candidacy, because if they do, he will win," said Petunia Malinalli, a member of the national feminist collective No Aggressor in Power. "He portrays himself as a fighter for social causes, and the people of Guerrero love that."
Salgado's candidacy has rankled Mexico's feminist movement, which gained momentum last year with the strike and a takeover of a national human rights office. The activists are combating a climate of impunity that saw 3,723 women murdered last year. Many deaths become ghastly media spectacles, like the killing of a girl kidnapped outside her school, a woman who was skinned by her boyfriend and the shooting of a feminist activist who had tracked murders of women.
Authorities' reactions to feminist demonstrations have included sending all-female police forces to corner the marchers, and decrying their spray-painting of national monuments.
The activists have become a potent political force.
"The president often plays at not taking a position in order to emerge unscathed, but in this case, it's going to cost him," said Ana Joaquina Ruiz, a gender researcher and a professor at the Iberoamerican University in Mexico City. "This implies losing legitimacy with the feminist movement."